Sriracha Beef With Miracle Noodles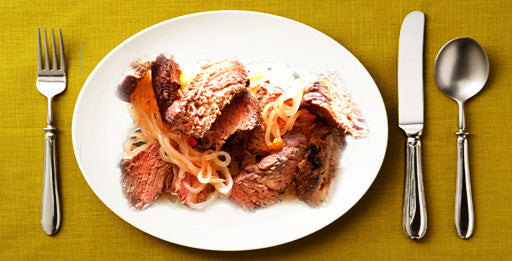 Nutritional Analysis
Good Points
No saturated fat
No cholesterol
Bad Points
Very high in sodium
Very high in sugar
Nutrition Facts
Serving Size: 618 g

Amount Per Serving
Calories 17 

Calories from Fat 0

 

% Daily Value*

Total Fat  0.0g

0%

Trans Fat  0.0g
Cholesterol 0mg

0%

Sodium  396mg

16%

Potassium  0mg

0%

Total Carbohydrates  3.2g

1%

Sugars  3.0g
Protein 0.2g
* Based on a 2000 calorie diet.
Ingredients
6 oz. of Beef Chuck short rib beef steak (or any steak)
For optimal health, select grass-fed, organic beef.​
2-3 Teaspoons of Sriracha Garlic Chili Sauce brand: Huy Fong
1/2 a teaspoon of Low Sodium (green cap) Soy Sauce
For sodium-conscious dieters, consider using Bragg's Liquid Amino Acid​
a Dash of Sea ​ Salt
2 Packages of 7 0z. Miracle Noodle Angel Hair Pasta
Method
Grill Steak to your liking (I prefer medium rare for this recipe)Do not overcook meats as this will make the meat unhealthy.
​While steak is grilling drain Miracle Noodles and rinse.
Bring water to a boil and boil noodles for up to 3 min Take two paper towels to dry noodles.(For best results, dry roast the noodles.)
Saute' noodles in a bowl with Sriracha Garlic Sauce, Soy Sauce, Salt.
Slice steak in strips and put on top of noodles
Enjoy!