Spicy Clementine Miracle Noodles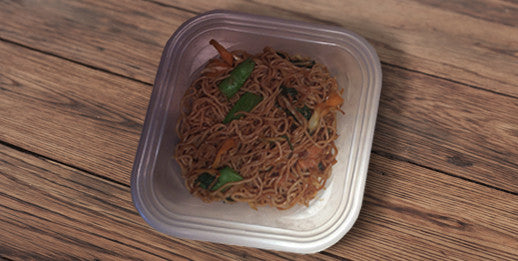 Nutritional Analysis
Good Points
No saturated fat
No cholesterol
High in iron
High in manganese
High in magnesium
High in niacin
High in phosphorus
High in riboflavin
High in vitamin B6
Nutrition Facts
Serving Size: 40g

Amount Per Serving
Calories 24 

Calories from Fat 0

 

% Daily Value*

Total Fat  0.0g

0%

Trans Fat  0.0g
Cholesterol 0mg

0%

Sodium  70mg

75%

Potassium  259mg

2%

Total Carbohydrates   2.8mg

1%

Sugars   0.6g
Protein 2.0g
Vitamin A 1%  

Vitamin C 0%

Calcium 1% 

Iron 3%

Nutrition Grade A- 
* Based on a 2000 calorie diet.
Ingredients
2 pks Miracle Noodle Angel Hair.
the juice and the rind of 1 clementine.
2 tbs. soy sauce.
1/2 tbs. rice vinegar.
1 pinch of Splenda or any sweetener.
2-3 drops of siracha sauce.
2-3 drops of fish sauce.
1 pinch of grated carrots.
1 pinch of corn starch.
Method
Rinse and drain the noodles.
Absorb the excess water with a dish towel.
In a small bowl, mix all the ingredients until they dissolve.
Put the Miracle Noodles and the sauce on medium heat for 6 to 10 minutes. Enjoy!!