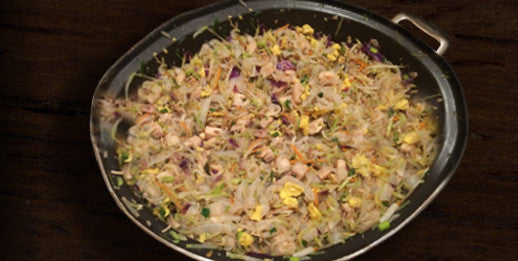 Nutrition Facts
Serving 6.0

Amount Per Serving
Calories 191 

 

% Daily Value*

Total Fat  11g

17%

Saturated Fat  2g

11%

Monounsaturated Fat  7g
Polyunsaturated Fat  2g
TTrans Fat  0g
Cholesterol  115mg

38 %

Sodium  889mg

37 %

Potassium  124 mg

4 %

Total Carbohydrate  14 g

5 %

Dietary Fiber  3 g

12 %

Sugars  3 g
Protein 10 g

20 %

Vitamin A  

34 %

Vitamin C  

83 %

Calcium  

5 %

Iron  

15 %
* Based on a 2000 calorie diet.
Ingredients
3 bags Miracle Noodle Fettuccini Try Miracle Noodle Shirataki Pasta, Fettuccini, 7-Ounce (Pack of 6)
3 Tbs Avocado Oil or choice divided. Try Massimo Gusto Extra Virgin Avocado Oil , 1 Liter 2-Pack
3 whole eggs
1 bag Marketside Broccoli Slaw or similar
1 bag River Valley Bean Sprouts or similar
1/4 cup sliced green onions
1/4 cup chopped cilantro
4 cups rotisserie chicken cubed
1 whole lime divided
4 Tbs chopped peanuts optional
sirachi sauce optional
Pad Thai Sauce
1/2 cup hot water
4 Tbs Tamarind paste (Try Tamicon Tamarind Paste 16 oz) or your own choice
2 Tbs coconut aminos (Try Coconut Secret Organic Raw Coconut Aminos Soy-Free Seasoning Sauce-8 Oz) or your own choice
2 Tbs fish sauce
2 Tbs Sweetener of choice
1 tsp hot pepper flakes optional
Method
Prepare sauce. Dissolve tamarind paste in hot water. Add remaining ingredients and stir until combined. Add hot pepper flakes to taste.
Prepare Miracle Noodles. Rinse well, then microwave for 3 minutes on high. Rinse again and drain well.
Add 1 Tbs oil to a hot frying pan, or wok, or electric skillet. Scramble eggs until just barely done. Remove from heat and set aside.
Add remaining oil to pan. Add broccoli slaw. Saute until they are a bright green (about 4 minutes).
Add bean sprouts. Saute an additional 2 minutes.
Add chicken. Saute 4-5 minutes or until chicken is heated through.
Add scrambled eggs and toss lightly.
Add noodles and toss again until well mixed.
Add cilantro, green onions, and prepared sauce. Saute about 2 more minutes or until heated through.
Remove from heat. Garnish with the juice of half the lime (cut the remaining lime into pieces for individual tastes) and peanuts.
Serve with a salad or stir fried green beans. Enjoy!!