Fishy Miracle Noodle Lunch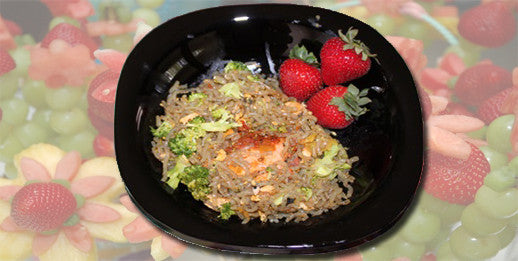 Nutritional Analysis
Good points
Low in sodium
Low in sugar
High in iron
High in manganese
Very high in magnesium
Very high in phosphorus
High in selenium
Very high in vitamin C
Nutrition Facts
Serving Size: 101 g

Amount Per Serving
Calories 150 

Calories from Fat 89

 

% Daily Value*

Total Fat  9.8g

15%

Saturated Fat  1.8g

9%

Trans Fat  0.0g
Cholesterol  13mg

4%

Sodium  31mg

1%

Potassium  405mg

12%

Total Carbohydrates   6.5g

2%

Dietary Fiber   1.9g

8%

Sugars   1.0g
Protein 11.0g
Vitamin A 7%  

Vitamin C 66%

Calcium 4% 

Iron 18%

Nutrition Grade A 
* Based on a 2000 calorie diet.
Ingredients
1 pkg Miracle Noodles (I used Black Shirataki)
1 ½ T Apple Cider Vinegar (I prefer Bragg's)
½ t chopped fresh ginger
2 t Better Than Bouillon (vegetable base)
1/8 t turmeric
Small portion left-over prepared fish (mine was salmon grilled with chili sauce) – divided
1 cup chopped broccoli
¼ cup raw pumpkin seeds
Method
Rinse and dry noodles as directed, cut them up a bit and dry roast in a medium sauce pan. Add vinegar, ginger, Bouillon and turmeric when noodles are dry and "squeaky". Turn heat to low and stir till mixed.
Cut off 1/3 of the fish, chop it into small pieces and mix it in as well. Stir on low heat until warmed through and flavors have thoroughly melded together.
Add broccoli and seeds and toss to mix. Cut remaining fish in two and lay the pieces separately on top of the mixture in the pan. Put the lid on and leave on warm for 4 minutes, just until fish and broccoli have lost their chill. With a large spoon or spatula, serve half to each plate with a piece of fish atop each.
Donna's Notes and options
Vinegar, ginger and turmeric can be deleted, replaced or reduced. I like these ingredients and like to eat them every day for my health. This amount of vinegar definitely gives a characteristic taste, so if you are not crazy about vinegar start with much less or use water, cooking wine or lemon juice.
Any meat or roasted vegetables could be used in place of the fish. To me, the key to the delicious flavor is mashing some into the mix as well as on top, so that the noodles carry the flavor of the fish.
I prefer to use raw ingredients when feasible in my cooking. You could certainly choose to cook the broccoli more rather than just warm it. Also, roasted nuts could be used if you prefer.
So many things could be optional additions: parsley, almonds, chia seeds, green beans, spinach (that will be my next addition), sweet golden tomatoes, green onions, asparagus (yum)…Enjoy!!