Miracle Fettuccini Carbonara**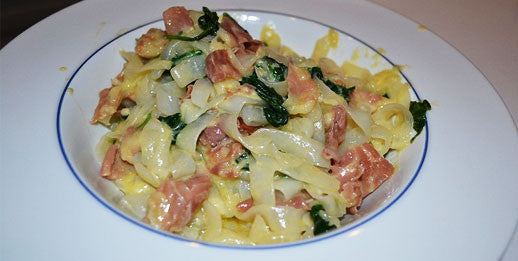 Ingredients
7 oz bag Miracle Noodle Fettuccini
1.5 oz Prosciutto di Parma
2 oz. fresh baby spinach
1 egg, beaten
2 oz. shredded Parmesan cheese
2 TBSP EVOO (Extra Virgin Olive Oil)
Dash garlic powder
Dash onion powder
Method
Rinse and drain fettuccini. Heat the noodles in a skillet over medium high heat to drain the liquid.
Heat EVOO( Extra Virgin Olive Oil) in a pan over medium heat. Add the spinach and sprinkle it with the garlic and onion powders. When spinach starts to wilt add the noodles and prosciutto. Stir until heated through. Remove the pan from the heat and add in the egg and parmesan cheese. Serve immediately. Enjoy!!
 Note: **Carbonara:
Carbonara is an Italian pasta dish from Latium, (region of central western Italy in which the city of Rome was founded) based on eggs, cheese, bacon, and black pepper. Spaghetti is usually used as the pasta, however, fettuccine, rigatoni, linguine or bucatini can also be used.