Guiltless Land and Sea Stir-Fry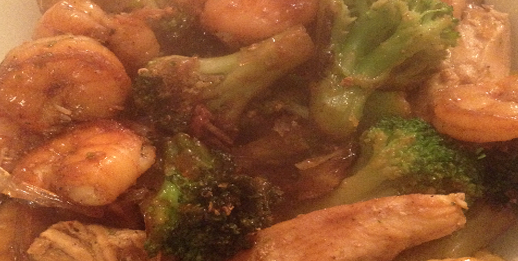 Ingredients
2 Servings of Miracle Noodle Dry Kanten Pasta
1 Boneless Chicken Breast
1.5 Servings of Uncooked Shrimp
1 Cup Broccoli Florets
5 Tbs Low-Sodium Soy Sauce
.5 Tsp Garlic Salt
.5 Tsp Black Pepper
Method
Heat water in a small pot on the stove but do not let it reach a boil. Water temperature should be the same as hot tea. Drop 2 servings of pasta into the water and gently stir until desired consistency is reached. Drain Pasta.
Put the Low-Sodium Soy Sauce into the pan. A stir-fry pan is best. Turn the heat to medium. In the meantime, slice the chicken breast so that it is ready to be added to the pan.
Once the pan is heated, add the sliced chicken beast, shrimp, and broccoli florets to the soy sauce. Add the garlic salt and pepper. Stir, and let the ingredients cook together in the pan for roughly 10 minutes or desired amount.
Add the cooked Kanten Pasta to the pan and mix with the ingredients.
Turn off the stove and enjoy your guiltless Land and Sea Stir-Fry!