Keto-Friendly Chicken Parmesan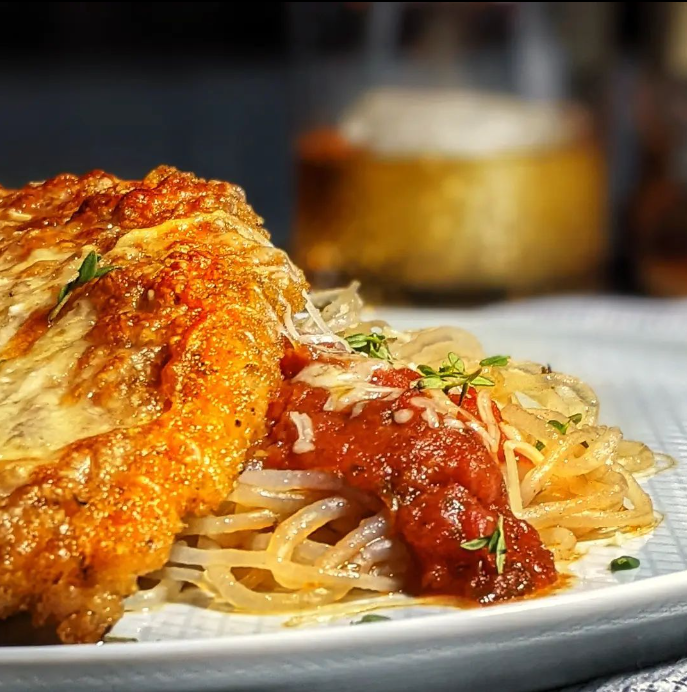 Recipe by
@electricmice
Ingredients:
1 Pack Miracle Noodle Organic Spaghetti
1 Tbsp Avocado Oil
1 Tbsp Worcestershire Sauce
1 Tsp Herbs de Provence
1 Pounded Chicken Breast
1 Egg
1 Tbsp Pork Panko
1 Tbsp Bird Gang
Tomato Basil Sauce
Mozarella Cheese
Parmesan Cheese
Thyme
Directions:
1.) Prepare the Spaghetti per the package instructions.
2.) Mix in a dash of avocado oil and worcestershire sauce.
3.) Season the noodles with Herbs de Provence.
4.) Warm up the Tomato Basil Sauce.
5.) Dip the Chicken breast in egg and coat in a mixture of pork panko and bird gang.
6.) Place in a smoker at 200 degrees for 15 minutes.
7.) Raise the Tempreture to 425 degrees for a crispy finish.
8.) Place the sauce on the spaghetti, then place the chicken on top.
9.) Sprinkle mozzarella and parmesan cheese on top.
10.) put under the broiler to melt the cheese.
11.) Garnish with thyme.