Miracle Noodle Reuben Casserole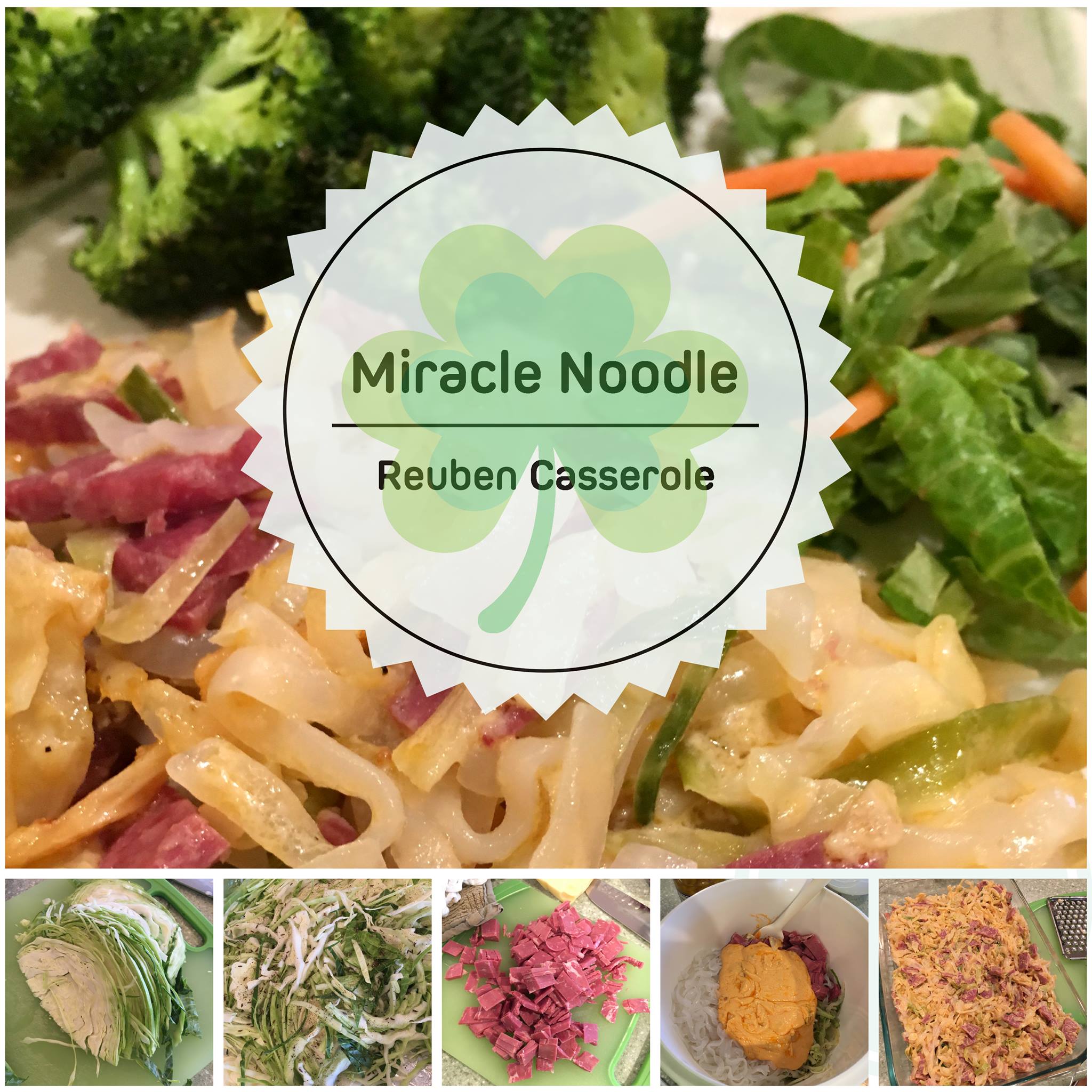 Miracle Noodle Ambassador, Theresa stepped up to our St. Patty's Day themed challenge! Here's what she came up with.

Make it for your Irish inspired meal with our Miracle Noodle Fettuccini! 
Follow Theresa on Instagram at
@neonismycolor
for healthy meals and fitness inpsiration!
St. Patrick's Day Inspired Miracle Noodle Reuben Casserole

INGREDIENTS:

3 packages Miracle Noodle Fettuccini
1/4 head of green cabbage, sliced thinly
1 tablespoon avocado oil
1 tablespoon caraway seed
Salt and pepper
1/4 cup avocado oil mayonnaise
2 tablesoons tomato paste
4 ounces cream cheese
4 tablespoons chopped jarred mild banana peppers
1/2 cup shredded Swiss cheese
3/4-1 lb. chopped pre-cooked corned beef
1 cup shredded Swiss cheese

DIRECTIONS:

1. Preheat oven to 400°.

2. Place sliced cabbage on a foil lined cookie sheet. Drizzle oil evenly over cabbage. Sprinkle with Caraway seed, salt and pepper. Place in oven for 20 minutes, tossing lightly halfway through.
3. Remove from oven, set aside, and reduce oven temperature to 350°.
4. Meanwhile, melt cream cheese in a small sauce pan over medium heat, stirring constantly. Add mayonnaise and tomato paste. Stir until well combined. Add banana peppers, and 1/2 cup shredded Swiss cheese. Stir until cheese melts through.

5. Prepare Miracle Noodles. Rinse, drain, and microwave 4 minutes. Rinse and drain again if necessary.

6. In a large mixing bowl, combine noodles, braised cabbage, chopped corned beef, and sauce. Combine well and place in a 9" x 12" Pyrex dish.

7. Top with 1 cup shredded Swiss cheese. Bake at 350° for 30-40 minutes or until bubbly and golden brown on top.

8. Serve with a salad or green vegetable.