Escargot Angel Hair with Black Truffle Cheese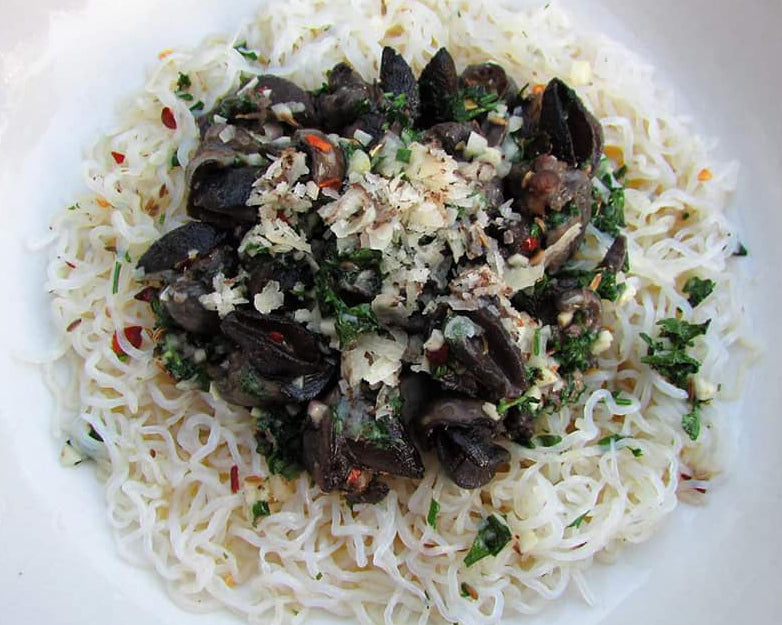 Sherri is such a talent in the kitchen. She's been featured on the Food Network, won countless cooking competitions, and she's one of our Ambassadors! Check out her latest creation using our New Formulation Miracle Noodle Angel Hair.

Recipe by Sherri Williams AKA Cooking With Love and Passion. 
INGREDIENTS:
7 ounces package Miracle Noodle Ready-In Minutes
6-7 tablespoons butter
1 shallot, finely chopped
2 garlic cloves, finely chopped
1 tablespoon flat leaf parsley, finely chopped
1 teaspoon fennel seeds, toasted and crushed
½ crushed red pepper flakes
salt and pepper to taste
1 tablespoon brandy
7.75 ounce can escargots, drained
black truffle cheese, grated
DIRECTIONS:
1. Preheat oven to 400 degrees.

2. Rinse and dry roast Miracle Noodle. Keep warm.
3. Blend butter, shallot, garlic, parsley, fennel, red pepper, salt, pepper, and brandy.
4. Place escargot in a single layer on an ovenproof pan. Cover with butter mixture. Cook until snail butter is bubbling hot.
5. Add some of the hot butter to the warm angel hair and toss.
6. Place angel hair on a serving dish, top with remaining snail butter and truffle cheese. Serve immediately.