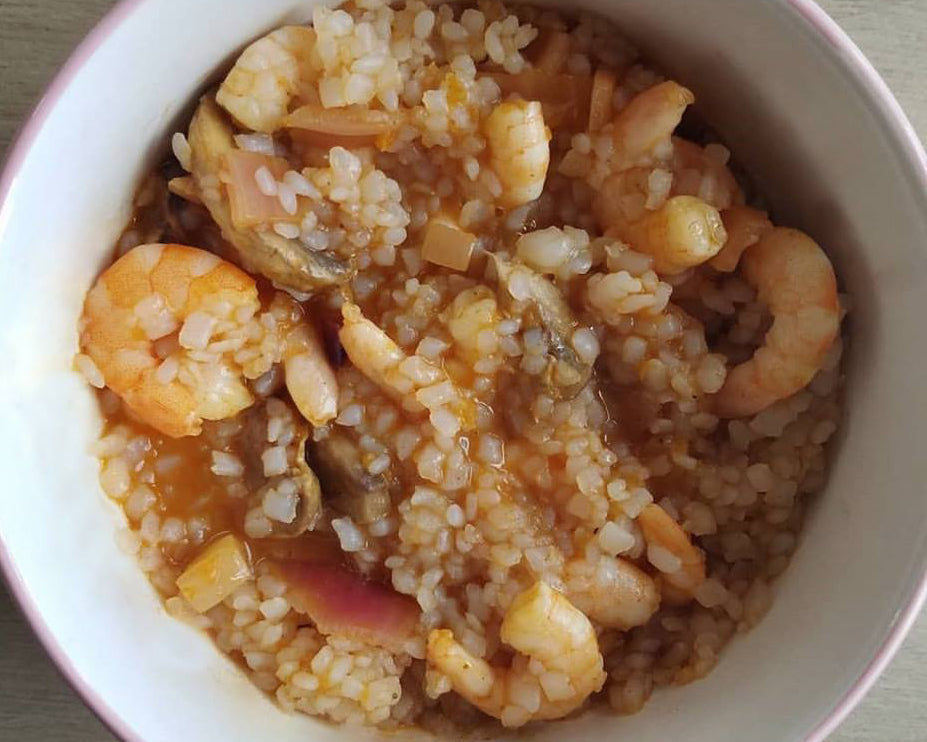 Do you love curry? Do you like it sweet or spicy? Whatever way you like it, we hope this recipe from Ambassador Nia inspires you to experiment with your spice cabinet! Try this keto-friendly shrimp and rice curry!
"Days like this are perfect for curry!"


Serves 4: Shrimp Jalfrezi

INGREDIENTS:

4 packs Miracle Rice
2 tablespoons of curry powder
1 teaspoon of garam masala
1 teaspoon of turmeric
1 teaspoon of mustard seeds
2 cloves of garlic, minced
1 tablespoon coconut oil
1 large white onion, diced
1 teaspoon of finely grated fresh ginger
100 g mushrooms
1 15 oz can of chopped tomatoes
1 cup water
15 oz fresh shrimp
100 g fresh spinach

DIRECTIONS:

1. Rinse Miracle Noodle for 15 seconds. Drain. Place Miracle Rice in boiling water for 2 min. Drain, then place in a naked pan over medium heat and dry the rice out until all water is absorbed.

2. In a large pan heat the coconut oil over medium-high heat until it melts and the pan is coated (alternatively you can use a non-stick pan and omit the coconut oil, but the flavour of the coconut definitely adds something to the curry!)

3. Add in mustard seeds, turmeric, curry powder, garam masala, garlic, ginger, and onion and cook until the onion softens, but is still holding its shape.

4. Add the chopped mushrooms and Miracle Rice. Stir, ensuring that the curry mixture is covering the vegetables. Reduce the heat to medium and cook for approximately 5 minutes, or until the vegetable edges start to soften.

5. Add the chopped tomatoes and water and bring the curry to the boil. Allow the pan to simmer and cover, cooking for approximately 20 minutes. (The vegetables should still be distinguishable, but they should be helping to thicken the sauce).

 



6. Add in the spinach and the shrimp and cook until the shrimp are piping hot and the spinach has wilted. The longer you cook the curry, the more intense the flavour. If possible, set to low heat and allow to cook for a further 30 minutes before serving.