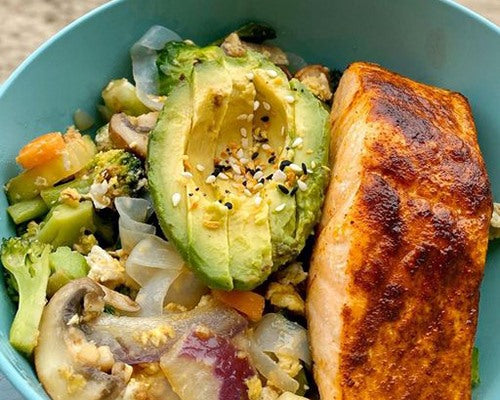 Get plenty of protein and healthy fats with this keto-friendly fettucine recipe. Make a complete meal that's packed with goodness and healthy fiber. 
Recipe by Lindsay or See Sparkly Lifestyle.
INGREDIENTS:
Miracle Noodle Fettuccine 
1 Egg
Broccoli
Red or Sweet Onion
Zucchini 
Mushrooms
Carrots
1 Garlic Clove (frozen or fresh)
Avocado
SEASONINGS:
Olive Oil
Salt
Trader Joe's Everything But The Bagel Seasoning
DIRECTIONS:
1. Chop broccoli, mushrooms, onion, zucchini, carrots, and any other veggies desired into bite-size pieces.
2. Heat olive oil in a pan over medium heat and sauté veggies with one finely chopped garlic clove (I like to use Trader Joe's frozen garlic cubes), and salt.
3. Once veggies are cooked to liking, gather them to one-half of the pan. Add more oil and crack an egg on the empty side.
4. Spread egg with a spatula to create a light scramble.
5. Add in miracle noodles with teriyaki sauce and stir-fry for about a minute.
6. Serve with avocado and sprinkled Trader Joe's Everything But The Bagel Seasoning!
Note: Pairs well with my paprika salmon and garlic chicken.