Spicy Basil Thai Fried Miracle Rice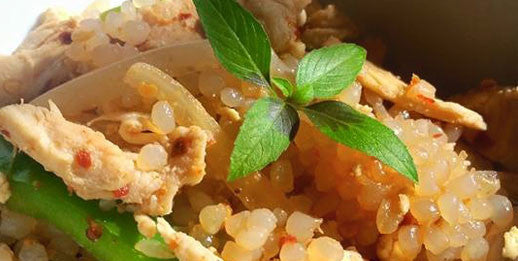 Nutritional Analysis
Good Points
Very high in niacin
High in phosphorus
Very high in selenium
High in vitamin A
Very high in vitamin B6
High in vitamin B12
Very high in vitamin C
Nutrition Facts
Serving Size 570 g

Amount Per Serving
Calories 521

Calories from Fat 150

% Daily Value*

Total Fat 16.7g

26%

Saturated Fat 3.1g

16%

Trans Fat 0.0g

Cholesterol 519mg

173%

Sodium 686mg

29%

Potassium 1141mg

33%

Total Carbohydrates 3.7g

7%

Dietary Fiber 5.6g

23%

Sugars 12.1g

Protein 71.2g

Vitamin A 95%

Vitamin C 280%

Calcium 12%

Iron 28%
* Based on a 2000 calorie diet.
Ingredients
1 Sliced onion
Minced Garlic
1 Thinly sliced chicken breast
Chili paste or sriracha- to taste
1 tbs. Soy sauce
Oyster sauce
2 large eggs
2 Sliced Bell Pepper
1 Sliced tomato
1 package Miracle Rice (boiled and dried according to package) (I have made this recipe with Miracle Rice, Angel Hair and Fettuccini
Dash of fish sauce
Thai basil leaves
Method
Stir fry onion and garlic in hot pan, then add chicken coat in soy sauce and add a dash of oyster sauce and chili paste.
Push chicken to the side, spray bottom of pan and crack both eggs and break yolk.
Allow to fry while mixing chicken.
Add bell pepper and tomato.
Flip eggs and cook until they are done, then mix in noodles, and a dash of fish sauce continue to cook until chicken is cooked all the way thru, add basil.