Clara's Miracle Rice Shrimp Okra Gumbo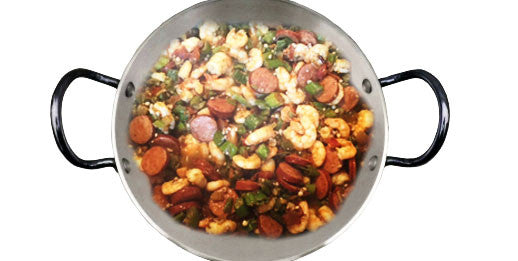 Nutritional Analysis
Good Points
High in manganese
High in phosphorus
High in vitamin A
High in vitamin B6
High in vitamin B12
Very high in vitamin C
Bad Points
Very high in cholesterol
Nutrition Facts
Serving Size 2338 g

Amount Per Serving
Calories 2087

Calories from Fat 682

% Daily Value*

Total Fat 75.8g

117%

Saturated Fat 13.2g

66%

Trans Fat 0.2g

Cholesterol 1921mg

640%

Sodium 2862mg

119%

Potassium 5029mg

144%

Total Carbohydrates 108.7g

36%

Dietary Fiber 35.4g

142%

Sugars 29.9g

Protein 229.8g

Vitamin A 239%

Vitamin C 562%

Calcium 159%

Iron 106%
* Based on a 2000 calorie diet.
Ingredients
1 package Miracle Rice, rinsed, boiled and drained.
1/4 cup cooking oil
2 cups chopped onion
1 cup chopped green bell pepper
2 ribs celery chopped
1 can Rotel (diced tomatoes with green chilies)
1 pack of your favorite brand smoked sausage, sliced or cubed (I use turkey, less calories)
8 cups sliced fresh or frozen okra
2 pounds shrimp (peeled)
Salt and pepper to taste
Or Tony Chachere's Seasoning or your favorite brand
Total cooking time is 1 hour.
Method
Add oil to heavy bottom pot.
When oil is hot add the onions. Cook until onions start to brown.
Add the bell peppers.
Cook on high heat until peppers start to brown. At this point the onions will begin to look burnt but this is what will darken your gumbo.
Add celery and cook until celery begins to soften. Add the Rotel.
Cook until all the water has cooked out. This may take about 4 minutes.