Toni's Beef Turkey Miracle Noodle Surprise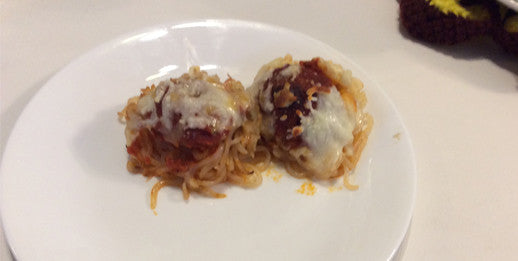 By: Toni L. Mendive
Toni says:
"I made these today with the Miracle Noodle Angel Hair. They are FANTASTIC!!! Probably the best thing I have done with the Miracle Noodle! I am alone, so I refrigerated the extras and reheated in the microwave. Just as good on day two!!"
Here are the photos of the steps for the meatball cups.... And what the finished product looks like. They taste so much better than they look!
Nutritional Analysis
Good points
Low in sugar
High in calcium
Very high in phosphorus
Nutrition Facts
Serving Size 244 g

Amount Per Serving
Calories 575 

Calories from Fat 338

 

%Daily Value*

Total Fat   37.5 g

58%

Saturated Fat   21.0g

105%

Trans Fat   117mg

39%

Sodium  1645mg

69%

Sodium  210mg

21%

Potassium  148mg

4%

Total Carbohydrates  16.5g

6%

Dietary Fiber  2.2g

9%

Sugars   5.1g
Protein 52.3g
Vitamin A 21%  

Vitamin C 2%

Calcium 102% 

Iron 2%

 
* Based on a 2000 calorie diet.
Ingredients
2 pkgs. Miracle Noodle Angel Hair
1/4 cup Kraft Parmesan cheese
8 meatballs (I use pre-made turkey meatballs)
1/2 cup marinara sauce
1/2 cup mozzarella, shredded
Method
Rinse the noodles and drain well. Put in skillet and heat until they appear to be drying...add Parmesan, toss with tongs.
When cheese is distributed and/or melted, divide noodles into 8 muffin cups sprayed with a little Pam Spoon 1/2 tbs. Marinara onto each cup.
Place a meatball in each cup, pushing down some.
Spoon another 1/2 tbs. Marinara on each.
Top each with about a tablespoon of mozzarella.
Bake at 425 degrees for about 30 minutes.
You can wait and put the mozzarella on after the cups have baked and just put them back in the oven just until the cheese melts. Two cups for a serving.