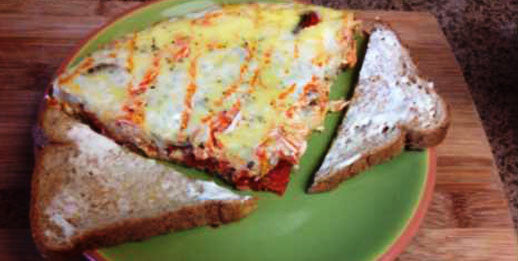 Nutritional Analysis
Good points
High in calcium
High in phosphorus
High in selenium
Very high in vitamin A
High in vitamin B12
Very high in vitamin C
Nutrition Facts
Serving Size 265 g

Amount Per Serving
Calories 159 

Calories from Fat 73

 

%Daily Value*

Total Fat   8.1 g

12%

Saturated Fat   3.7g

19%

Trans Fat   0.0g
Cholesterol  136mg

0%

Sodium  210mg

21%

Potassium  525mg

14%

Total Carbohydrates  9.6g

3%

Dietary Fiber  2.5g

27%

Sugars   6.1g
Protein 13.3g
Vitamin A 47%  

Vitamin C 74%

Calcium 22% 

Iron 6%

Nutrition Grade B 
* Based on a 2000 calorie diet.
Ingredients
1 Bag Miracle Rice
1/4 cup skim milk
6 eggs
About 12 grape tomatoes
Assorted sweet peppers
Garlic
Sea Salt
Pepper
Dill weed
Italian seasoning
Olive oil
Onion flakes
7 ounces grated mozzarella
Method
Step 1: heat oven to 400
Cut tomatoes in half and arrange on a baking sheet
Place a drop of olive oil on each piece.
Season with a little salt & pepper. Add some Italian seasoning overall.
Back for 10 minutes. Then broil for 3 minutes.
Remove from oven and let cool.
Step 2: Prepare Miracle Rice
Prepare the Miracle Rice according to instructions, rinse, boil, rinse and dry in a pan.
Get it pretty dry. You want the Miracle Rice to add volume without a lot of water.
Set aside and let it cool. You can put this in the base of the skillet that you'll use to bake the frittata
Step 3: Peppers!
Making your Frittata should be fun and include the things that you like. I like peppers.
I like to get a variety of sweet pepper like these, from a local farmer's market. But get any kind you like.
You can also prepare anything else you like at this point. You might try mushrooms, onions, asparagus, bacon, ham, etc. Make it your own. Chop up the peppers and sauté them in a spoonful of olive oil. Add garlic to taste. Make sure any liquid has evaporated.
Step 4: Preparing the eggs
Crack 6 eggs in a bowl. You can also use egg substitutes.
Add 1/4 cup skim milk
Add salt, pepper, garlic powder, dill weed and any other spices you like.
Whisk this mixture vigorously for a couple of minutes.

Prepping:
Select a frying pan. Make sure it is oven safe.
Get one at least 8"' if not 12". The bigger the skillet, the thinner the Frittata. I like em kind of thin.
Many swear by cast iron. I use stainless steel.
Coat with spray-on no stick vegetable oil
Set the oven to 350.
Step 5: Assembly
Start with the Miracle Rice and scatter across the bottom. Keep it towards the center, as shown.
Add the sautéed peppers and garlic. Then add a handful of onion flakes.
Add the tomatoes.
Carefully add the egg mixture. You don't want to undo all your layers by pouring it too fast.
Sprinkle Italian seasoning over all.
Add cheese.
Add several dollops of hot sauce.
Step 6: Cooking
Do not over bake.
Done when the center is firm and the edges light brown.
Cut into 8 wedges.
Enjoy hot!