Tomato Lobster Risotto with Miracle Rice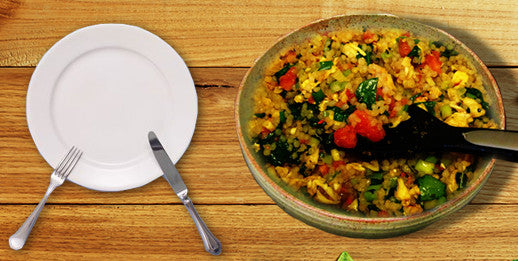 Nutritional Analysis
Good points
Low in sugar
High in phosphorus
Very high in selenium
High in vitamin A
High in vitamin B12
High in zinc
Nutrition Facts
Serving Size 109 g

Amount Per Serving
Calories 153 

Calories from Fat 72

 

%Daily Value*

Total Fat   8.0 g

12%

Saturated Fat   1.2g

6%

Trans Fat   0.0g
Cholesterol  106mg

35%

Sodium  817mg

34%

Potassium  346mg

10%

Total Carbohydrates  5.4g

2%

Dietary Fiber   1.5g

6%

Sugars   1.3g
Protein 15.7g
Vitamin A 29%  

Vitamin C 9%

Calcium 10% 

Iron 8%

Nutrition Grade A 
* Based on a 2000 calorie diet.
Ingredients
2 Tomatoes chopped
2 cups Welsh onion
2 Bags of Miracle Rice
1 cup chopped baby spinach
1 cup chopped cooked lobster
1 tbs garlic powder
2 tsp curry powder
1 tbs soy sauce
1 tbs olive oil
5 cloves of garlic chopped
Salt and pepper to taste
The prep time is approximately 20-30 minutes
Method
Prep Miracle Rice by draining, rinsing then boiling (according to directions on package)
Sauté garlic with olive oil for a few minutes until the garlic is slightly browned
Add in the Miracle Rice to the garlic and stir to combine.
Add in soy sauce, garlic powder, curry powder and salt and pepper
Stir in tomatoes and lobster and continue seasoning with salt, pepper etc. to taste
Stir in spinach and welsh onion and keep cooking for a few more minutes or until the juices of the tomato are beginning to come out.
Serve and enjoy! The consistency should be in between risotto and fried rice. Enjoy!