Low Calorie Creamy Avocado, Tomatoes and Tofu Miracle Noodles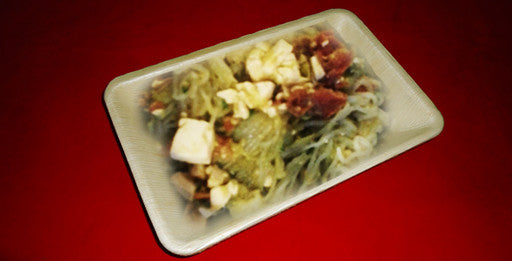 Nutrition Facts
Serving Size 1.0

Amount Per Serving
Calories 184 

Calories from Fat 177

 

%Daily Value*

Total Fat   10g

15%

Saturated Fat   2g

8%

Monounsaturated Fat   5g
Polyusaturated Fat   2g
Trans Fat  0g
cholesterol  0mg

0%

Sodium  45mg

2%

Potassium  491mg

14%

Total Carbohydrates  10g

3%

Dietary Fiber  4g

17%

Sugars   2g
Protein 9g

18%

Vitamin A 29%  

Vitamin C 58%

Calcium 25% 

Iron 34%

 
* Based on a 2000 calorie die.
Ingredients
1 package of Miracle Noodle Angel Hair Spaghetti
3 oz. firm Tofu cut into cubes
1/8 cup oven roasted tomatoes
1 tbsp. lemon juice
1/2 avocado, halved and pitted
2 tbsp. unsweetened almond milk
1 tbsp. minced garlic
¼ cup of freshly parsley
Salt and pepper
Method
Cook Miracle Noodle according to package directions
Meanwhile, make the sauce by placing lemon, avocado, almond milk, garlic, and parsley into a food processor and process until smooth.
Heat sauce adding in the tofu and oven roasted tomatoes on skillet on medium heat for 3 minutes. Add in pasta and stir well. Cook for additional 2 minutes. Enjoy immediately and do not try and reheat.