Egg White Veggie with Miracle Noodle Spaghetti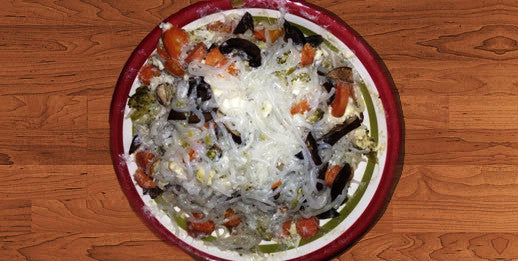 Nutritional Analysis
Good Points
Low in cholesterol
High in calcium
High in riboflavin
High in selenium
Very high in vitamin A
Nutrition Facts
Serving Size: 115 g

Amount Per Serving
Calories 77 

Calories from Fat 14

 

% Daily Value*

Total Fat  1.6g

2%

Saturated Fat  1.0g

5%

Trans Fat  0.0g
Cholesterol  5mg

2%

Sodium  265mg

11%

Potassium  250mg

7%

Total Carbohydrates  7.3g

2%

Dietary Fiber 6.1g

6%

Sugars  4.2g
Protein 6.1g
Vitamin A 206%  

Vitamin C 6%

Calcium 10% 

Iron 1%
* Based on a 2000 calorie diet.
Ingredients
1 Bag Miracle Noodle Angel Hair
3 Egg Whites
2 Laughing Cow Cheese Wedges
3 ounces Carrots Chopped
3 ounces Broccoli Chopped
3 ounces Mushrooms Chopped
Salt and Pepper to Taste
Method
Preparation time is 10 minutes
Scramble 3 egg whites and add in all other ingredients.
Cook all vegetables to your desired tenderness prior to adding to the egg white mixture.
I recommend boiling them. Enjoy!!