Miracle Noodle Crock Pot Chicken Stew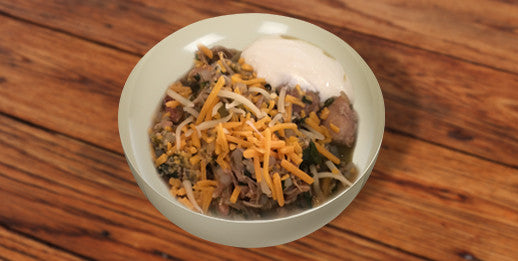 Nutrition Facts
Serving Size: 8.0

Amount Per Serving
Calories 182 

 

% Daily Value*

Total Fat  11g

17%

Saturated Fat  3g

14%

Monounsaturated Fat  5 g
Polyunsaturated Fat  2 g
Trans Fat   0 g
Cholesterol   54 mg

18 %

Sodium   288 mg

12 %

Potassium   273 mg

8%

Total Carbohydrate   5 g

2 %

Dietary Fiber   2 g

6 %

Sugars   1 g
Protein 16 g

31 %

Vitamin A 53%  

Vitamin C 55%

Calcium 11% 

Iron 12%

Nutrition Grade C 
* Based on a 2000 calorie diet.
Ingredients
2 tbsp Avocado Oil or choice
8 Boneless Chicken Thighs
2 cups cauliflower, chopped, steamed, and drained
2 cups low sodium chicken broth
1/2 yellow onion sliced
3 cloves garlic minced
1 tsp cumin
1/2 tsp chili powder
1/2 tsp sea salt
1/4 tsp cayenne pepper
1/4 tsp fresh ground black pepper
1/4 cup chopped fresh cilantro
2 cups fresh spinach loosely packed, then chopped
2 cups baby kale loosely packed, then chopped
1 4 oz. can diced green chilies
2 bags Miracle Noodle Rice (7 oz. Bags) Buy them here!
Sour Cream (optional) for garnish
shredded cheese (optional) for garnish
Method
Place sliced onions, garlic, and chicken broth into a crock pot. Set it to low or to desired cook time.
Heat 1 Tbls oil in a skillet until shimmery. Season chicken thighs with salt and pepper. Add chicken thighs to skillet in batches of 4 and brown on both sides. (Can skip this step if short on time).
Place chicken thighs in crock pot.
Add remaining oil into skillet. Quickly saute and brown the cauliflower. Add to crock pot with skillet bits and the oil. Add cumin, chili powder, cayenne pepper, salt and black pepper. Stir gently to coat chicken and vegetables.
Allow to simmer for a few hours.
An hour before serving, add cilantro, spinach, kale, and green chilies to crock pot. Stir gently.
10 minutes before serving, add Miracle Noodles Rice. Stir to incorporate.
Miracle Noodle Crock pot Chicken Stew just prior to serving.
Serve with sour cream and shredded cheese if desired. Enjoy!!