Marco's Jumbo Shrimp, Cherry Tomatoes, Peas and Miracle Noodle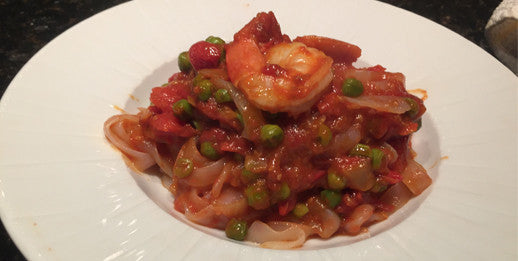 Nutritional Analysis
Good Points
No cholesterol
Low in sodium
High in dietary fiber
High in manganese
High in magnesium
High in niacin
Very high in potassium
Very high in vitamin A
High in vitamin B6
Very high in vitamin C
Bad Points
Very high in sugar
Nutrition Facts
Serving Size: 272 g

Amount Per Serving
Calories 72 

Calories from Fat 26

 

% Daily Value*

Total Fat  2.8g

4%

Cholesterol  0mg

0%

Sodium  13mg

1%

Potassium  626mg

18%

Total Carbohydrates 11.2g

4%

Dietary Fiber  3.4mg

13%

Sugars  7.3g
Protein 2.4g
Vitamin A 43%  

Vitamin C 60%

Calcium 3% 

Iron 4%

Nutrition Grade A 
* Based on a 2000 calorie diet.
Ingredients
2 packages of Miracle Noodle Fettuccini
18 oz of cherry tomatoes
12 jumbo shrimps
3 spoons of frozen organic sweet peas
1 tsp olive oil
1/4 onion
Basil leaves
Black pepper
Method
In a pan, put a spoon of olive oil and a quarter of an onion and make it cook for couple of minutes.
Then add cherry tomatoes and cook for 10 minutes.
When the tomato is cooked, add jumbo shrimps and peas and let them cook for 5 minutes.
Prepare Miracle Noodles as directed…dry it… and cook in the sauce for couple of minutes and adjust the salt.
Top with basil leaves and black pepper. Enjoy!