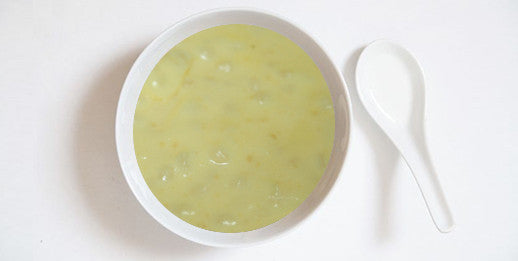 Nutritional Analysis
Good Points
Low in sodium
Very high in vitamin B6
Bad Points
High in cholesterol
Very high in sugar
Nutrition Facts
Serving Size: 180g

Amount Per Serving
Calories 235 

Calories from Fat 60

 

% Daily Value*

Total Fat  6.7g

10%

Saturated Fat  3.4g

17%

Cholesterol  97mg

32%

Sodium  102mg

4%

Potassium  110mg

3%

Total Carbohydrates   37.3g

12%

Sugars   30.8g
Protein 7.6g
Vitamin A 4%  

Vitamin C 0%

Calcium 16% 

Iron 4%

Nutrition Grade C 
* Based on a 2000 calorie diet.
Ingredients
2 whole eggs (large)
1 bag Miracle Noodle Rice
1/2 cup sugar or equivalent of a sugar substitute
1/4 cup of flour
1 tsp vanilla extract
2 Cups milk
2 tsp butter or coconut oil (optional but it adds a little richness to the recipe.)
Method
Combine the eggs, sugar, flour, and vanilla in a medium sized pot with a whisk.
Add the milk, whisking as you add, until everything is combined and smooth.
Beat over medium high, stirring frequently, until the mixture comes to a boil and thickens. Stir In the Miracle Noodle Rice.
Stir in the butter until melted. Remove from heat, pour into a container, and cool before eating.
It tastes great cold, but I think it's heavenly when it's warm.
Makes 4 generous servings. Enjoy!!