Miracle Noodle Baked Ziti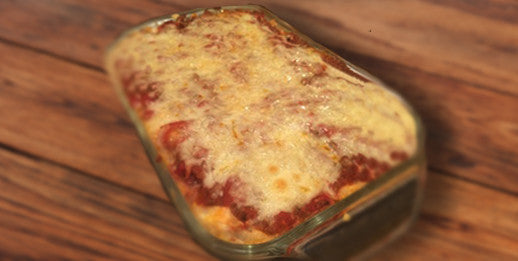 Nutrition Facts
Servings 6.0

Amount Per Serving
Calories 346 

 

%Daily Value*

Total Fat   18 g

27%

Saturated Fat  8g

41%

Monounsaturated Fat  4g
Polyunsaturated Fat  1g
Trans Fat  0g
Cholesterol  120mg

40%

Sodium  535mg

22%

Potassium  53mg

2%

Total Carbohydrates   13g

4%

Dietary Fiber   2g

7%

Sugars   7g
Protein 35g

70%

Vitamin A  

32%

Vitamin c  

36%

Calcium  

51%

Iron  

15%

Nutrition Grade A 
* Based on a 2000 calorie die.
Ingredients
2-7 oz.Bags Miracle Noodle Ziti
1 Tbls Avocado Oil
1 lb Ground Beef (93% lean)
1/2 cup yellow onion, diced
2 cloves garlic, minced
1 Tbls Italian Seasoning
1/4 tsp fennel seeds, crushed
1/4 tsp sea salt
1/8 tsp fresh ground black pepper
2 cans diced tomatoes - no salt added
12 oz. whole milk ricotta cheese
1/4 cup shredded Parmesan cheese, divided
2 cups shredded mozzarella cheese, divided
1 whole egg, beaten
Method
Prepare Miracle Noodle Ziti. Rinse and drain it.
Microwave it on high power for 3 minutes, then rinse and drain again.
Press out excess moisture using a clean towel or allow to drain while preparing sauce.
Brown ground beef over medium heat until no longer pink. Drain and set aside.
Add oil to same pan. Add onion and garlic. Saute 5 minutes. Add seasoning, fennel, salt and pepper. Cook an additional 5 minutes or until fragrant.
Add two cans of diced tomatoes and the browned ground beef. Simmer on low for 25 minutes or until sauce thickens somewhat. Remove sauce from heat and allow to cool about 10 minutes.
Meanwhile, place the ricotta cheese, half of the Parmesan, and 1/2 cup of the mozzarella cheese in a bowl. Add the beaten egg and combine.
Add about 1/4 cup of the prepared sauce into the cheese mix. Add the noodles. Stir gently to combine.
Spray a 7'x11" Pyrex glass dish or similar with non-stick cooking spray. Lay out half the noodle mixture. Then layer half the remaining sauce.
Add a layer of half the remaining mozzarella and half the remaining Parmesan. Repeat layers, starting with noodles, sauce, and cheese.
Place in a 350° oven for 35-45 minutes or until cheese is golden brown and ziti is bubbly. Allow to sit 8 minutes before serving.
Recipe Notes:
You may make this ahead of time and refrigerate the ziti prior to baking. I wouldn't recommend freezing it.