Allison James Gismondi Low Carb Rice A Roni Miracle Noodle Style (Grain Free)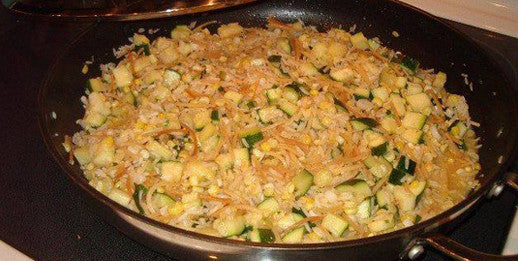 Ingredients
2 Bags of Miracle Noodles - I used Organic Spaghetti
1 head of cauliflower
1 large container of Chicken or Vegetable Stock
3 medium zucchini
1 medium onion
3 garlic cloves
1 can of Italian Stewed tomatoes drained and cut into small pieces
1 small package of frozen corn (Optional)
Olive oil
4 ounces cream cheese (Optional)
½ cup sour cream (Optional)
Method
First clean and cut up cauliflower into small chunks and run through food processor until it resembles rice. This can be also done with a box grater. Set aside.
Cut up zucchini into small bite size chunks. Set aside.
Rinse the Miracle noodles very well and drain in colander and blot dry.Using a clean scissors cut up noodles into small 1 inch pieces
Dice onions
Mince garlic
Put dried noodles in a hot dry frying pan and pressing and stirring for about 10 mins to dry out noodles. Add olive oil and garlic and onions and saute till onions are soft dont let garlic burn.
Pour in the chicken stock, and the riced cauliflower and zucchini and the rest of the ingredients and simmer for about 10-15 mins until zucchini is cooked but not mushy.
Optional, for a creamy tangy cream sauce add cream cheese and sour cream and stir to incorporate.
If you are looking for a low fat version you may use low fat sour cream and low fat cream cheese but then this bumps up the carbs. Use full fat products for lower carbs. Enjoy!