Thai Chicken With Miracle Noodle Angel Hair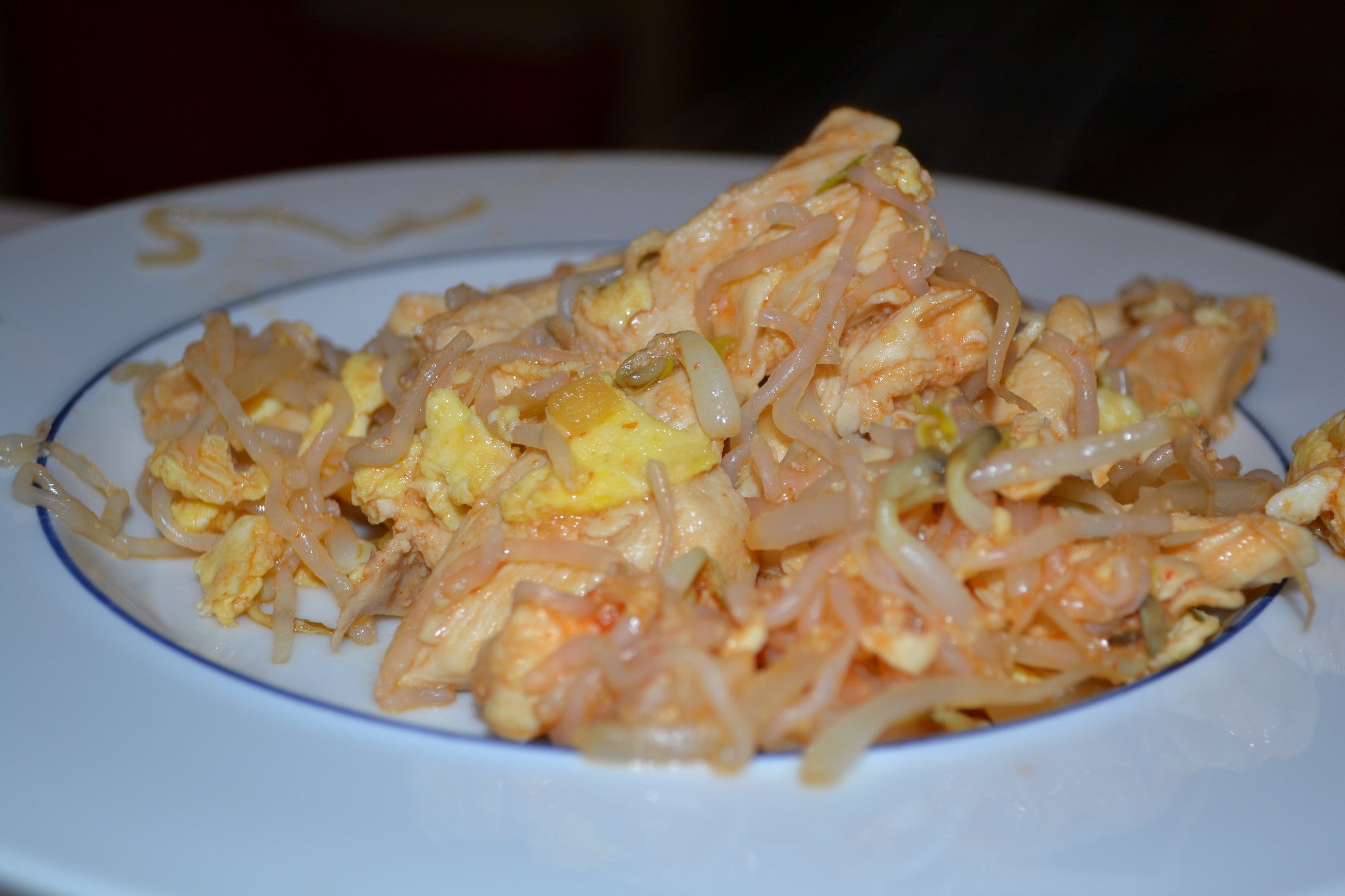 Ingredients
5 chicken breast(cut into very thin strips)
6 tablespoon soy sauce
4 tablespoon sherry(dry)
3 1/4 teaspoon sugar
3 teaspoon cornstarch
14 ounce pasta(Miracle Noodle Angel Hair)
1 1/3 tablespoon sesame oil
3 green onion(diced)
2 clove(s) garlic(minced)
5 ounce bean sprouts
3 ounce mushrooms(any variety, chopped)
2 tablespoon extra virgin olive oil
3 eggs(lightly beaten)
2 tablespoon rice wine vinegar
2 teaspoon oyster sauce
2 tablespoon sriracha
Method
Place the uncooked chicken strips in a plastic bag with 4 TBSP of the soy sauce, the sherry, 3 tsp of the sugar and the cornstarch.
Allow to marinate for at least 30 minutes.
While the chicken marinates and the other ingredients are prepared, rinse the Miracle Noodle Angel Hair in a colander under cold water for 1-2 minutes.
Drain and place in a frying pan over medium high heat. Cook at least until the liquid has evaporated, and continue to cook until you reach desired crispiness.
Heat 1 TBSP sesame oil in a wok or large frying pan. Sir fry the green onions, garlic and mushrooms until they start to get tender.
Remove from the heat, keeping any liquid in the pan, and set aside. Add the chicken and cook through. Remove from the pan and drain.
Add 1 tsp sesame oil to the pan and cook the sprouts for just 1-2 minutes. Remove the sprouts from the pan. Add 2 TBSP EVOO (extra virgin olive oil) to the pan and scramble the eggs.
Add the chicken, vegetables and noodles back into the pan, along with the rice wine vinegar, remaining soy sauce, oyster sauce and Sriracha sauce.
Stir until heated through, and serve! Enjoy!!