Spicy Hidden Valley Ranch Crunchy Cabbage w/ Smoked Turkey Sausage-Miracle Noodle Stir Fry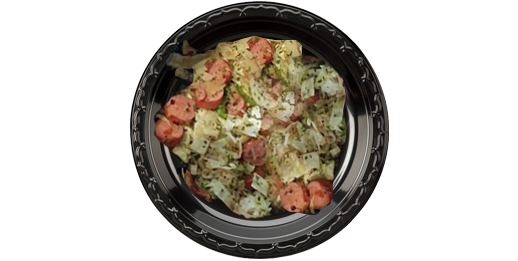 Ingredients
1/4 packet of Miracle Noodle Angel Hair
1 package Hidden Valley ranch dry season pack (look for low fat kind)
2 to 4oz-Butterball Everyday Smoked Turkey Sausage or 1 chicken breast
2 cups fresh cabbage
1/4 fresh green bell pepper
White onion
1 small can sauerkraut
1 tsp extra virgin olive oil
3 tsp crushed red pepper
1 tsp (or added for desired taste) sea salt
1/4 cup chicken broth
Method
Rinse one bag of Miracle Noodles and then add rinsed noodles to boiling water for 1 minute. Remove noodles from water and place on plate. Take cutting utensils and chop noodles up to your desired size. Once done, set noodles to the side.

Take desired meat (turkey sausage or chicken breast and cook) In a medium heated pan, add slices of turkey sausage, bell pepper, white onion. Allow the turkey sausage to cook to desired taste.
Add small can of drained sauerkraut to pan. Allow ingredients to cook together then add crushed red pepper.
Take the 2 cups of fresh cabbage and add to pan w/ 1 tsp of extra virgin olive oil.

Add a small amount of chicken broth and continue to stir mixture together for about 1 to 2 minutes. Add the Miracle Noodles and stir.
Once desired textured is reached, add 1/4 of Hidden Valley ranch dry season pack and continue to stir for about 1 minute.

Place mixture on plate and add sea salt and remaining crushed red pepper for taste and serve. Enjoy. Makes 3-4 servings.