BANG BANG Tofu Salad Bowl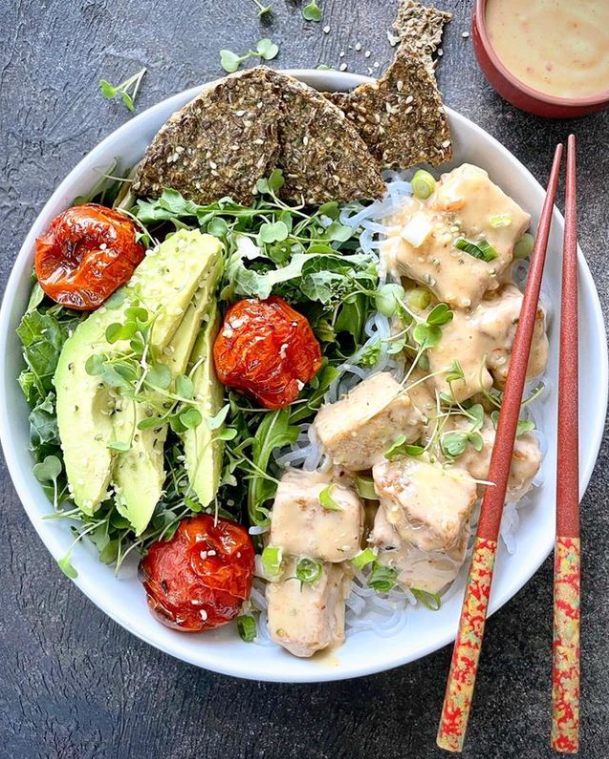 Recipe by @drtarasunshine

Ingredients:

1 pack Miracle Noodle: Angel Hair
1 1/2 Cups Arugula
1 pack Sweet Kale Mix
3 Roasted Tomatoes
1/2 Sliced Avocado
1 tbsp Green Onion
1/2 Cup Arugula Microgreens
1 tsp Hemp Hearts
1 tsp Keto Crisp Bread Pieces

Tofu Prep: 3 - 4 Servings

1 package extra-firm tofu
2 tbsp gluten-free coconut aminos (or soy sauce)
1 tbsp extra-virgin olive oil
1 tsp Kosher salt
1/2 tsp smoked paprika
1/2 tsp onion powder
1/2 tsp garlic powder
1/2 tsp black pepper
3 tbsp arrowroot powder (or cornstarch)

Bang Bang Sauce:

1/2 cup avocado mayonnaise, regular or vegan
1/4 cup sweet Thai chili sauce
1 to 2 tbsp sriracha, adjusted to taste
1 tbsp Lakanto sugar-free maple syrup (or pure maple syrup)
1 clove garlic, minced (optional)
salt & pepper, adjusted to taste

Directions:

1.) Wrap tofu in a clean, highly absorbent dish towel and put a heavy skillet on top. Allow to sit for 30 minutes to absorb excess moisture.

2.) Dice tofu into bite-sized cubes and put in a medium bowl. Add soy sauce, olive oil, sriracha, and spices, and mix well. Allow to marinate at room temperature for 30 minutes.

3.) Preheat oven to 400F and line a baking sheet with parchment.

4.) Add arrowroot starch to tofu and toss until evenly combined.

5.) Spread tofu in a single layer on the prepared baking sheet and bake for 20 minutes. Flip and continue baking another 10 to 20 minutes, until nicely browned and crispy.

6.) While the tofu cooks, make the Bang Bang Sauce. Whisk together the mayonnaise, chili sauce, sriracha, sweetener, and garlic. Season with salt and pepper and adjust sriracha and sweetener to taste.

7.) When all of the tofu is cooked, toss it with the desired amount of sauce and serve with rice or noodles, toppings of choice, and extra sauce on the side.