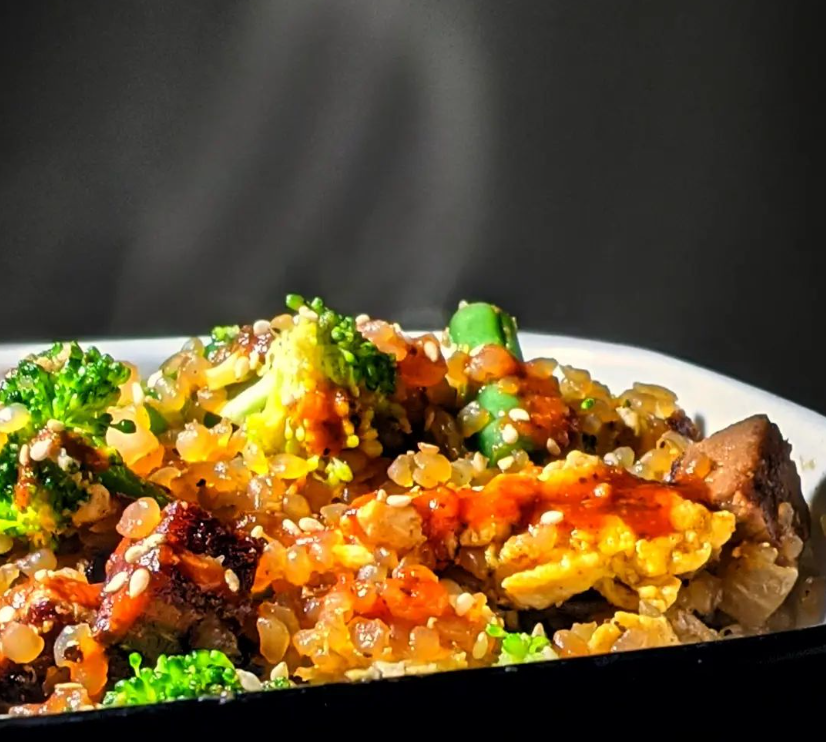 Recipe by
@electricmice
Ingredients:
1 Pack
Miracle Rice
3oz Cubed brisket flat
1 Teaspoon avocado oil
1/2oz Butter
1.5oz Onion
0.75oz Green beans
2oz Broccoli
0.5oz Soy sauce
0.25oz Sesame seeds
1tsp Asian rub
Directions:
1.) To start, you'll need Miracle Rice. In one pan, over medium heat, add your well rinsed miracle noodle rice. Stir occasionally to help dry the rice.
2.) In the other pan, I used a wok, add your protein of choice. Cube up 3oz of leftover brisket and added it to the wok, medium heat, with a teaspoon of avocado oil. Add onion, broccoli and green beans. Give a toss to coat everything lightly in the oil and sauté till it gets a bit of color.
3.) Push the protein and veggies aside and add 1/4 tablespoon of butter to the pan, crack and scramble one egg in the butter.
4.) Add 1/4 tablespoon of butter to the rice pan as well, stirring well to coat the rice.
5.) With the veggies, egg and protein cooked, and the rice well dried, it's time to season. Use 1 teaspoon Asian Rub on the veggies and soy sauce in the rice. Now, pour the rice into the wok and mix everything together. Pour into a bowl, top with some sesame seeds, your favorite hot sauce and enjoy!