Coconut Lime Chicken Salad with Miracle Noodle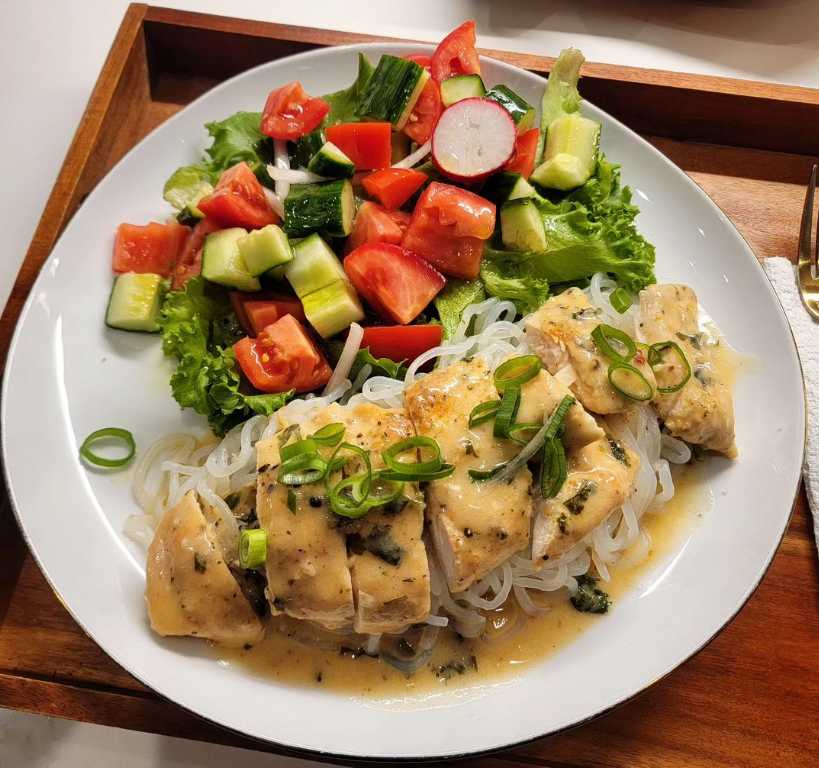 Recipe by
@fernandoforerochef
Ingredients:
1 Pack Ready-To-Eat Miracle Noodle Spaghetti
1 Chicken Breast
1/4 Cup Flour
1/4 Cup Cilantro
1/4 Cup Italian Herbs
Sauce:
1 Cup Coconut Milk
1/4 Ginger
2 Lime
Red Pepper Flakes
Salt
Pepper
Mint
Salad:
8 Lettuce
3 Roma Tomatoes
1 Seedless Cucumber
1 Radish
2 Shallots
1 Tsp Champagne Vinegar
1 Tsp Olive Oil
Directions:
1.) Season the chicken breasts with the Italian herbs, flour, and some cilantro.
2.) Pan-sear the chicken breast on both sides.
3.) Mix up coconut milk, ginger, lime, red pepper flakes, salt, pepper and mint for the sauce.
4.) Sautee the noodles.
5.) Toss in the lettuce, Roma tomatoes, seedless cucumber, shallots, radish, and champagne vinegar to make the salad, and drizzle a little olive oil on top.
6.) Put all the portions together on a plate and enjoy!