Cold Noodle Salad with Marinated Tofu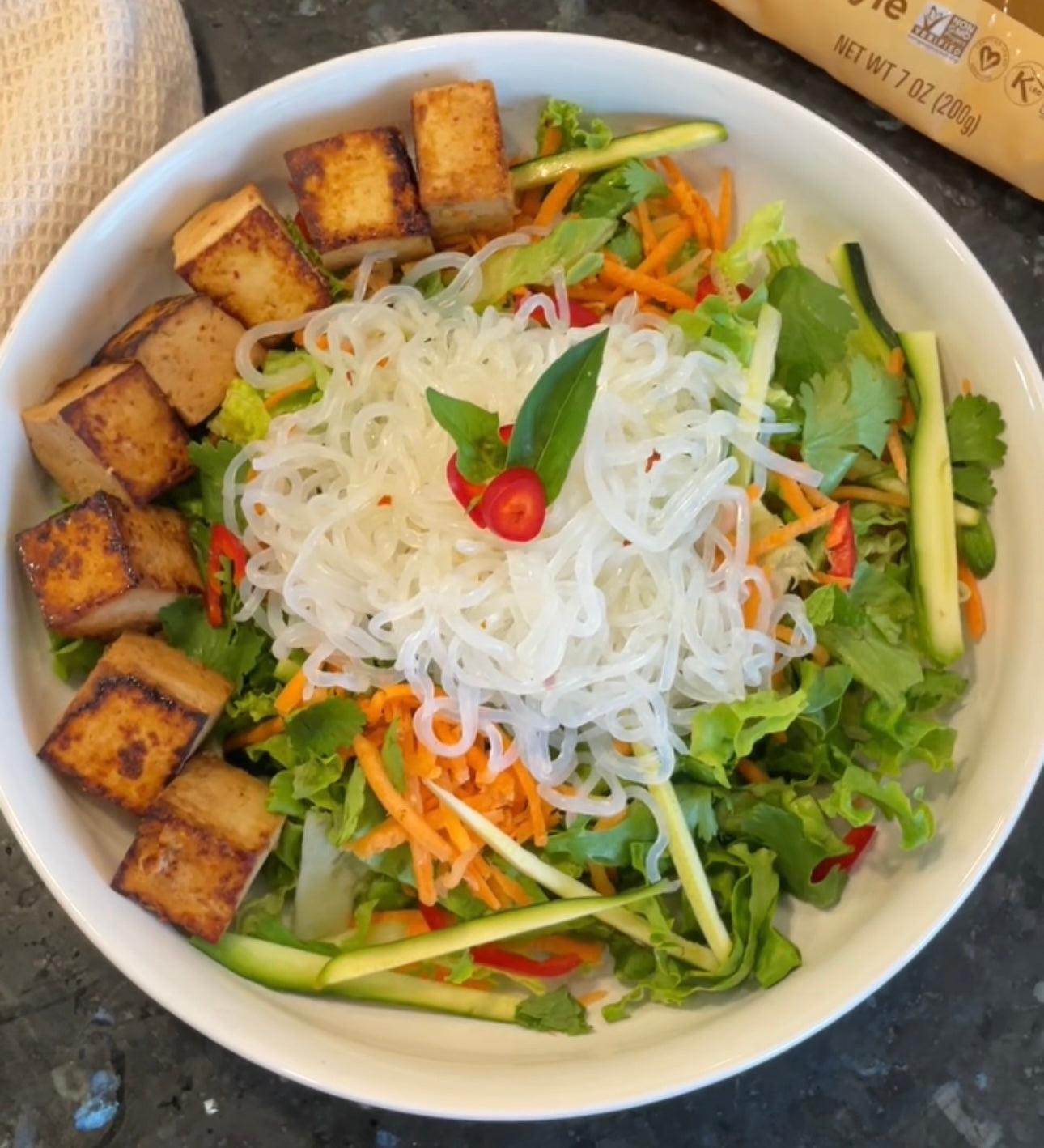 Recipe by Alia Marie Kitchen

Yields: 2 portions

Total Time: 30 minutes, plus overnight for the Marinated Tofu

Marinated Tofu
● 1 block of firm tofu
● 1/4 cup soy sauce
● 1 tablespoon rice vinegar
● 1 tablespoon sriracha
● 1 tablespoon honey
● 1 teaspoon ground ginger
● 1 teaspoon black pepper

Salad Ingredients
● 1 package of Miracle Noodle Angel Hair
● 1 head of lettuce, washed and cut into ½ pieces
● ½ cup shredded carrots
● Half a cucumber, cut into matchsticks
● 1 small, red chili
● ¼ cup chopped cilantro
● ¼ cup peanuts
● Springs of mint
● Torn basil leaves

Salad Dressing
● 2 tablespoons brown sugar
● 1 tablespoon fish sauce
● 2 tablespoons rice wine vinegar
● 1 teaspoon soy sauce
● ¼ cup water
● Juice of 1 lime
● Pinch of red pepper flakes

Instructions:

1. Start by mixing the marinade ingredients in a small bowl. Cut the tofu into small, 1 inch cubes. Place the tofu in a glass container or plastic bag to marinate overnight or for at least 1 hour.

2. The next day, chop all of the vegetables and set aside. Separate the tofu cubes from the marinade liquid but don't throw either way.

3. Cook the Miracle Noodle Angel Hair. Place the noodles in a non oiled pan and cook on medium heat until dry. Add in the marinade liquid and let it cook for 2 minutes. Set aside in the fridge to cool.

4. In the same pan on medium low, cook the tofu for about 5 minutes. Try to get a golden brown on the tofu cubes. Pour in the marinade liquid to caramelize the tofu.

5. Assemble the salad by placing all the vegetables in a large bowl. Add in the cooled angel hair noodles and pour the salad dressing over top. Mix well.

6. Plate the salad amongst two bowls. Gently place the tofu into the salad.

7. Serve immediately for optimal flavor and freshness.