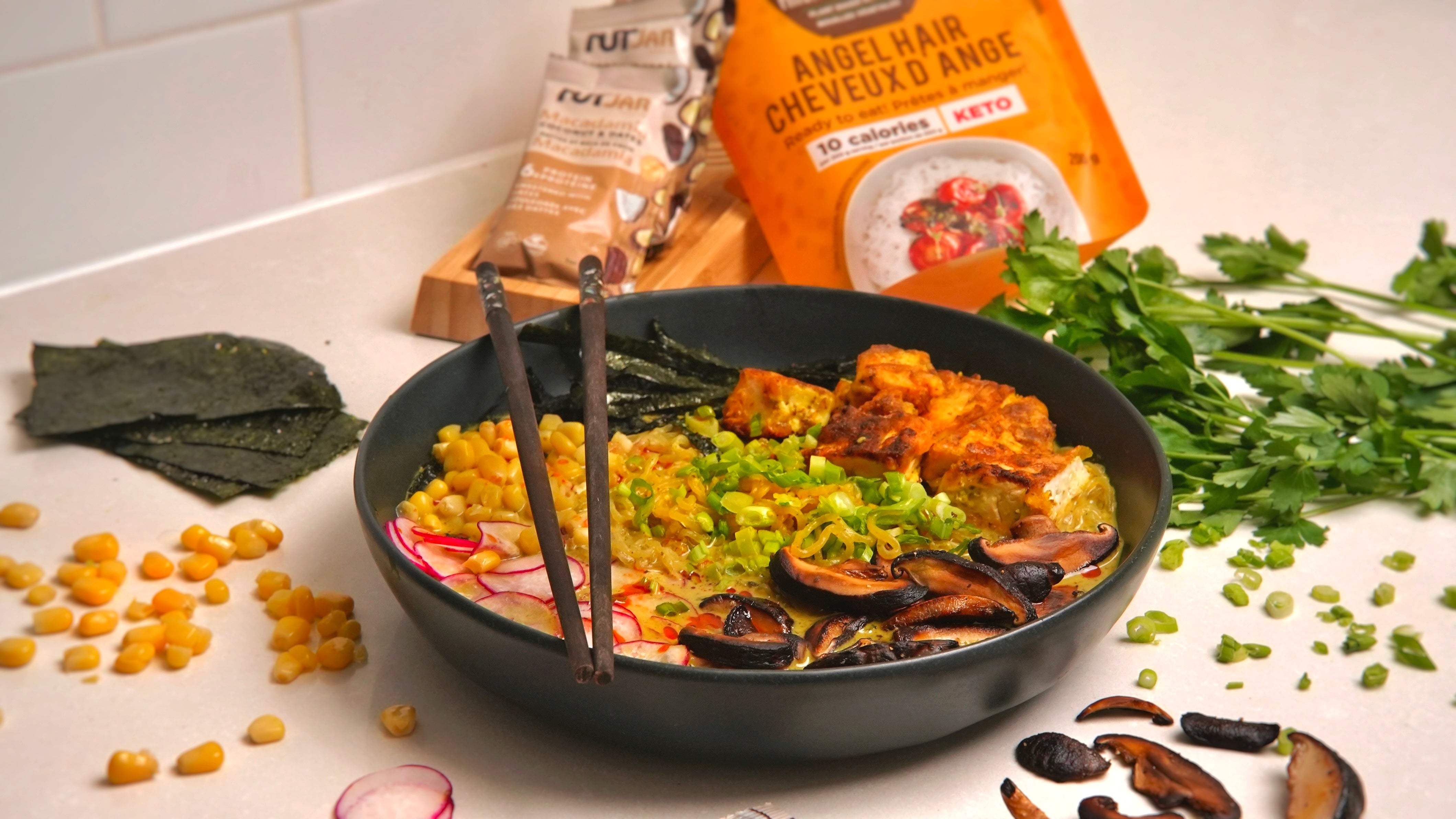 Easy protein ramen noodles with creamy macadamia broth by
@nutjar.ca
This incredibly simple vegan creamy ramen is a rich and flavorful 15-minute meal that only requires a handful of ingredients! 


Prep time: 5 min
Cook time: 10 min 
Total time: 15 min
Servings: 1
Ingredients: 
• 1 clove garlic 
• 1/2 tsp - fresh ginger
• 1/2 cup - any mushrooms 
• 1 cup - veggie broth
• 1 tbsp - tamari
• 1 tsp - dulse/nori flakes
• 1 tsp - chili paste/oil
• 1 tsp - rice vinegar
• 1/4 tsp - turmeric
• 2 tbsp - nutritional yeast 
• 1 tbsp - miso
• 1 pack of Macadamia Protein Pack
• 1 serving of Miracle Noodle Ready To Eat Angel Hair
 Optional Garnishes: 
• Radish 
• Corn
• Nori
• Shiitake
• Green onion
• Chili oil
Instructions: 
STEP 1 
Set a small saucepan over medium-low heat. Add the minced garlic and the grated ginger. Cook until fragrant, about 1–2 minutes. Slice the mushrooms. Add them to the first part and sauté over medium heat until the mushrooms are soft and dark, and all the moisture in the bottom of the pot has evaporated. (Tip: Make sure not to burn the aromatics.)
STEP 2 
Add the vegetable broth, tamari, nori flakes, chili oil, rice vinegar, turmeric, and nutritional yeast. Turn the heat up to medium-high, and bring the broth up to a boil. 
Once boiling, add the miso paste and macadamia protein pack. Stir to combine. 
At the end add 1 serving of noodles and cook according to the package instructions. 
STEP 4
Serve the vegan creamy nutty ramen as-is, or with garnishes like deep-fried tofu, mushrooms, thinly sliced radish, canned corn, green onion, chili oil, and 1 sheet nori (dried laver seaweed). 

Get your Protein Nut Butter at NutJar.CA TODAY!