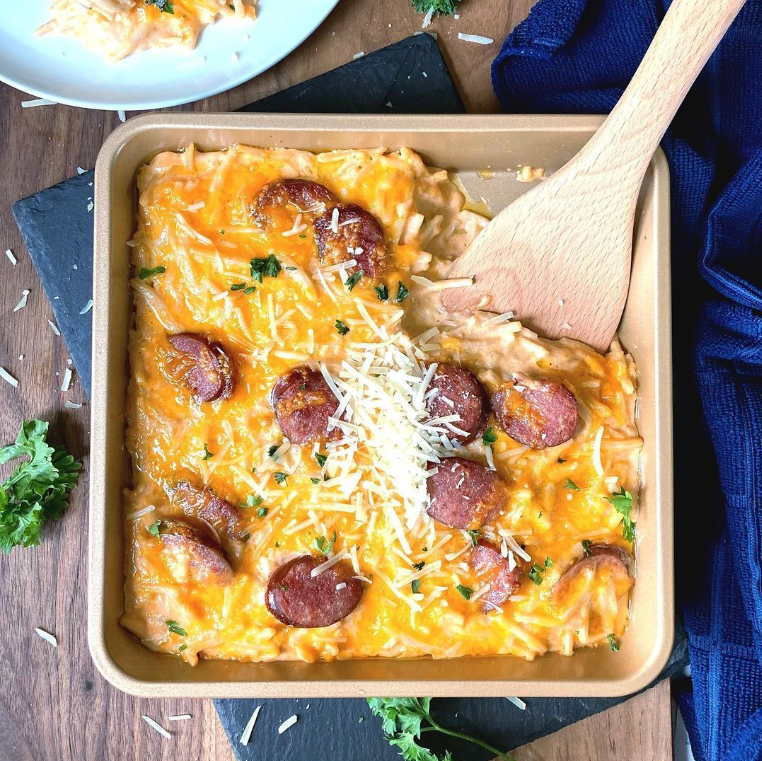 Recipe by
@ketowithmyboys
Ingredients:
2 cans Miracle Noodle: hearts of palm spaghetti
1 Box chicken bone broth
4 tablespoons butter
2-4 cups cheese (you can use cheddar, mozzarella, or any meltable cheese)
1/2 cup sour cream
4 ounces cream cheese
Salt and pepper as needed
1-2 cooked kielbasa sausage, sliced
Optional: parsley + more cheese for garnish.
Directions:
1.) Cut up your spaghetti noodles into macaroni and cheese size noodles.
2.) Pour the chicken broth in a large pan with all noodles. Once the broth is boiling for a minute, lower down to simmer, just to infuse noodles for 5-10 minutes. Then remove about half of the broth-but SAVE it to the side.
3.) Add the butter and cheese and stir.
4.)Add sour cream, cream cheese, and salt and pepper.
5.)You'll want to slowly add in your saved bone broth to get your desired level of creaminess.
6.)Once your mac and cheese is done, add in cooked kielbasa.
7.)Broil for 6 minutes.
8.)Add extra toppings on top-parsley, parmesan, and/or bacon.