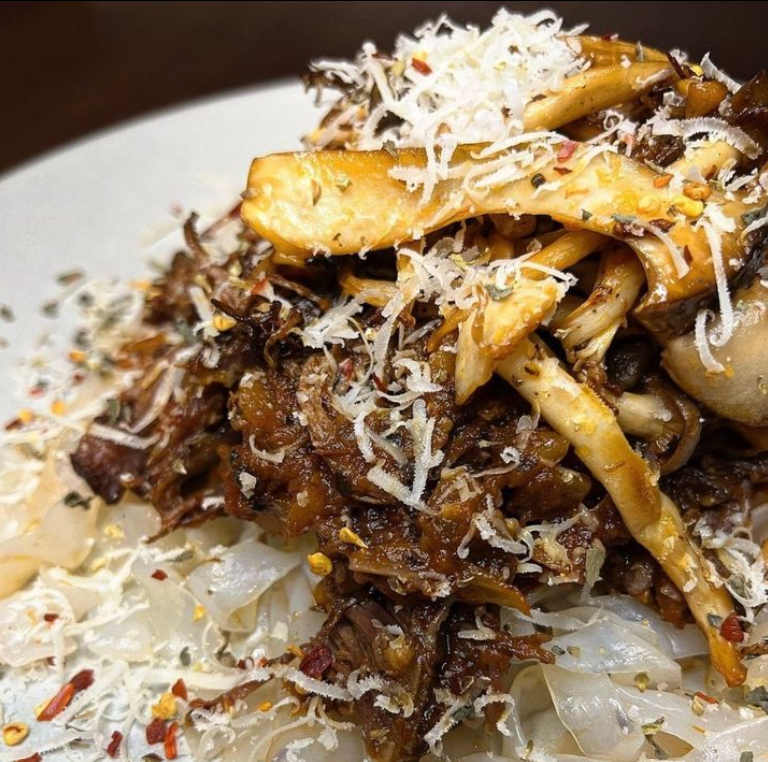 Recipe by
@cookin_brooke
Ingredients:
1 pack
Miracle Noodle Fettuccine
3 grass-fed bone in short ribs
1 pasta sauce of choice
1 pack whole food mushrooms
1/2 white onion
4 garlic cloves
1 tbsp Raw Parmesan
1 tsp Red pepper flakes
Arugula side salad (arugula, roasted beets, black radishes, parmesan, pickled onions, apple cider vinegar dressing.)
Directions:
1.) Salt and pepper your short ribs.
2.) Pre heat a cast iron and add avocado oil, sear your ribs on all sides till browned.
3.) Put ribs in your slow cooker, add in your pasta sauce, I did about half a jar.
4.) Sautéed some garlic and onion in the same pan. Once softened add to your crockpot.
5.) Put slow cooker on low for 8 hours.
6.) Once the time is up on the slow cooker, scoop of some of the fat off the top and add to a pan. Cook your mushrooms in that fat.
7.) You can then take your meat out and shred it. I also scooped out as much of the fat off the top as I could but you can def leave it.
8.) Add your meat back to the sauce and mix up.
9.) Pan fry your noodles a bit and then plate, put your meat sauce on top, top off with your mushrooms, red pepper flakes and parmesan.