Zucchini & Corn Konjac Noodles with sesame salmon and pickled cucumbers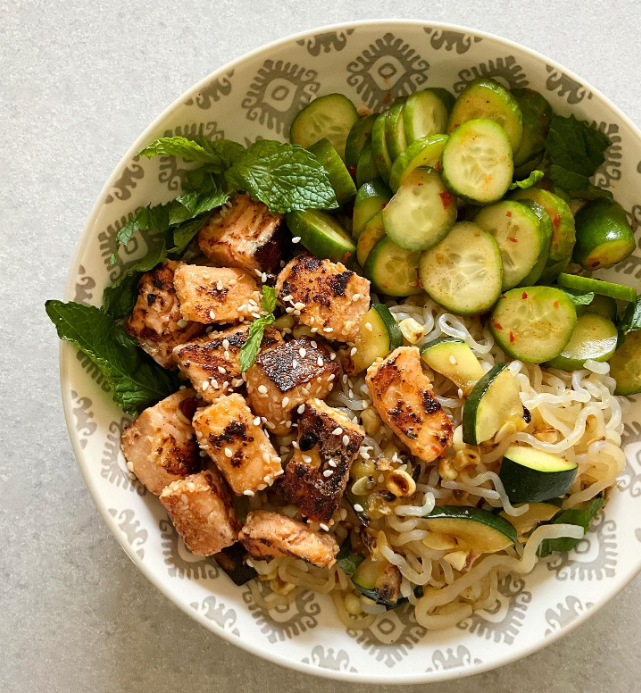 Recipe by
@what.genevieve.eats
Ingredients:
1 package
Miracle Noodle Spaghetti Style
1 salmon filet, cut in bite size pieces
1/4 teaspoon garlic granules
1/4 teaspoon onion granules
Salt
Sriracha, I use Yellowbird Organic
Sesame seeds
1 cup zucchini, cubed
1/2 cup of corn or 1 ear, kernels removed
1 tablespoon coconut aminos
1 teaspoon fish sauce, I use Son
1/4 lime juiced
Fresh mint
Pickled Cucumbers:
2 Persian cucumbers, sliced
1 teaspoon unsweetened rice vinegar
1 teaspoon chili sauce
1/2 teaspoon salt
Directions:
1.) In a bowl, combine sliced Persian cucumbers, rice vinegar, chili sauce, and salt. Set aside.
2.) In a non-stick skillet, spray avocado oil and sauté the zucchini and corn until you have a nice char. In the meantime, cut the salmon in cubes, sprinkle with garlic granules, onion granules, sriracha and sesame seeds.
3.) Make space in your pan to sear your salmon on all sides for 3-4 minutes.
4.) Heat up your rinsed konjac noodles in the microwave for a few seconds or in hot water. Add coconut aminos, fish sauce, lime juice, a little salt and your veggies.
5.) Serve with the salmon, pickled cucumbers and fresh mint.