How to Get the Most Out of No Carb Noodles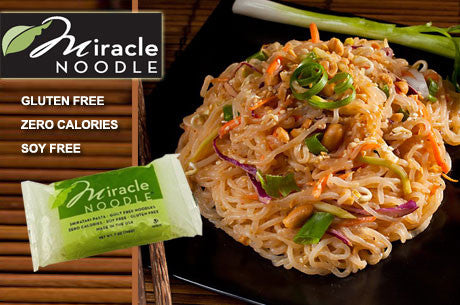 The family has gone home, the dishes are put away, and you're looking to purge yourself from overeating at the latest family get together. If only there was some type of no carb noodle or no calorie pasta that could make you feel full and still taste good.

Many of our fans have called our no carb noodles a miracle, and the name stuck. Finally, you can enjoy the taste of your favorite pasta dishes, but with no calorie pasta, you can avoid the guilt and the high carb count. Imagine a bowl of creamy Fettuccine Alfredo with only one net carb.

How can no carb noodles taste good? That's where the fun part starts. Miracle Noodles are made from the konjac root, and have no taste, meaning whatever you add to the dish, makes it!

How can no calorie pasta possibly fill you up? 
While no calorie pasta might have a lot of zeros (zero carbs, zero calories, zero soy), what it is high in is soluble fiber. This is what gives you a fullness sensation, without making you ingest a large amount of carbohydrates. 

For any diabetics, or anyone following a Ketogenic or Atkins diet, no carb noodles are a dream come true! Bodybuilders and competitors also love our no calorie pasta because it allows them to easily track their macronutrient intake, but still make delicious and amazing dishes.

We have plenty of lunch and dinner ideas that are perfect for one and good enough the serve to the entire family. What can you make with no carb noodles? How good can no calorie pasta really be? Take a look at some of our fan favorite recipes here.

Some people don't believe in miracles. We understand the saying, "if it's too good to be true, it usually isn't," but with our no carb noodles, you're getting the real deal. This isn't some factory made Franken-pasta. Our no carb pasta is made with the same noodle that's been enjoyed in Japan for nearly 2,000 years.
If you're looking to make a low calorie noodle dish tonight, you've come to the right place!