The Difference Is in The Noodle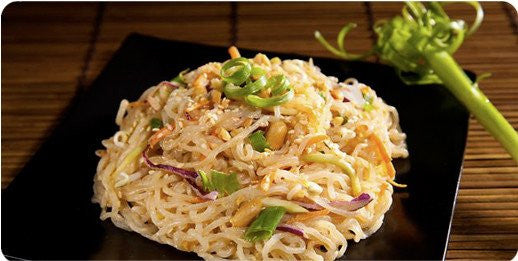 With many noodle substitutes out there, it can be a daunting task to pick out which one is suitable for your diet. While there are many options to choose from, once you start looking at the numbers, the difference between each noodle variety becomes strikingly more apparent. Miracle Noodles are an amazing resource for any diet calling for a reduction in calories, cholesterol, and most importantly, carbs. But what's the difference between egg noodles and shirataki noodles?
Egg noodles are a delicious part of age old recipes. While Grandma may have gotten the taste of your favorite recipe right, we've come a long way in learning about the nutrition in our meals. So, what's so bad about egg noodles? 
First of all, egg noodles are very high in carbs, just one cup has 40 grams, and that's not including whatever else you decide to add to your recipe. Secondly, let's talk about calories. There are around 430 calories in four ounces of egg noodles (again, without any added ingredients). Finally, they are also moderately high in cholesterol, and if butter is added to the recipe, that number will only climb. This isn't to say that egg noodles are devoid of any healthy attributes. They are high in protein, and can provide you with sustained energy, but the high carb percentage makes them a no-go for anyone on the ketogenic diet, diabetics, or any other diet that calls for a reduction carbs. 
If you're switching from traditional pasta to egg noodles, chances are you've come across Miracle Noodles once or twice in your search. While they are somewhat new to the scene in terms of the Western diet, shirataki noodles have been eaten in Japanese culture for over 2,000 years. With zero carbs, calories, soy, gluten, or dairy products, there's literally nothing to lose by giving Miracle Noodles a shot in your next recipe! You might just be surprised at how far so many zeros can take you! 
Here's a delicious recipe for you to try that only takes 10-15 minutes to make: 
Hot or Cold Sesame Noodles
Preparation Time:
10 minutes
Ingredients
1-2 7oz bags of Miracle Noodle Angel Hair.
1 tablespoon Braggs Liquid Aminos (Low Sodium Soy Sauce can be used).
1 tablespoons raw unsalted peanut butter. 2 tablespoons rice wine vinegar.
1/2 tablespoon dark sesame oil.
2 cups shredded white cabbage.
1 cup bean sprouts.
3 scallions, chopped.
1 tablespoon sesame seeds.
1 teaspoon Sriracha hot sauce(optional).
Method
Open bag of Miracle Noodles into a colander draining the water that the noodles are packed in. Boil for one minute, drain and pat dry with a paper towel or small hand towel.
In the bottom of a large bowl, whisk together Bragg's, peanut butter, vinegar, sesame oil, and hot sauce(optional). Add noodles and veggies and toss to combine the noodles and coat them evenly with sauce. Sprinkle scallions and sesame seeds throughout the salad and serve.
Or you can heat the sauce for a couple of minutes in a sauce pan, then add noodles and serve hot!