10 Minute Sesame Miracle Noodles with Sweet Potato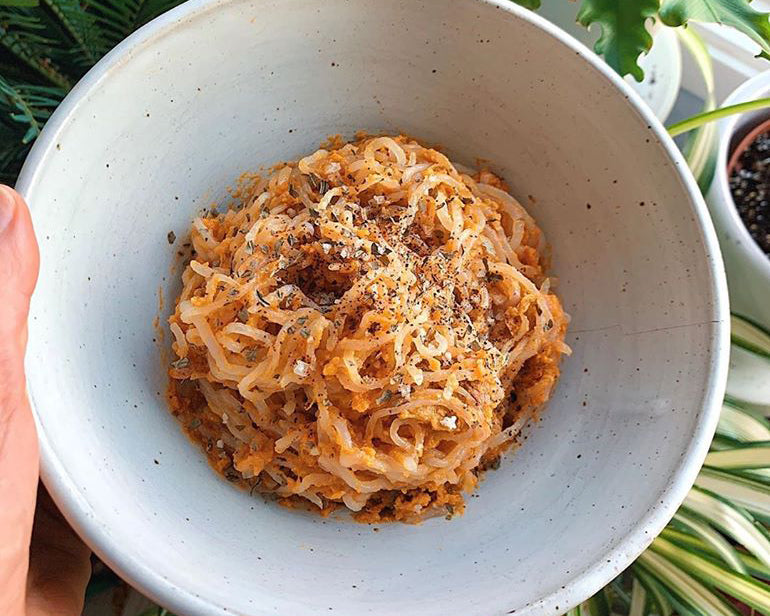 Looking for a quick healthy meal full of fiber and flavor? Clara whipped up this vegan 10 minute meal using sweet potato and some easy to find ingredients.
"I just threw this dish together on the fly. It literally took 10 minute and it tastes so good! The secret to my quick prep time is that I roast sweet potatoes in big batches to keep on hand for easy meal prep (like with this recipe) all week long."
Recipe by Clara, @wellismore on Instagram.


INGREDIENTS:
1 bag Miracle Noodle Angel Hair
1 sweet potato, pre-cooked
2-3 tbsp coconut aminos
2 tsp olive oil
1 tsp sesame oil
Dash of ginger powder
Dash of cinnamon
Dash of chili powder
Dried basil
Celtic sea salt, to taste
DIRECTIONS:
1. Put pre-cooked sweet potato in microwave for 2-3 minutes.

2. Prep noodles according to package instructions.

3. Use a fork to roughly mash sweet potato

4. Add coconut aminos, oils, herbs, and spices to bowl and mash until sweet potato is smooth.

5. Stir in noodles and top with additional salt, herbs, and spices if desired, then you're done! Proof positive that when you're a health nut on the go, there's no quicker and yummier choice than Miracle Noodle!