Miracle Noodle Fettuccine with Mushrooms, Cherry Tomatoes, and Watercress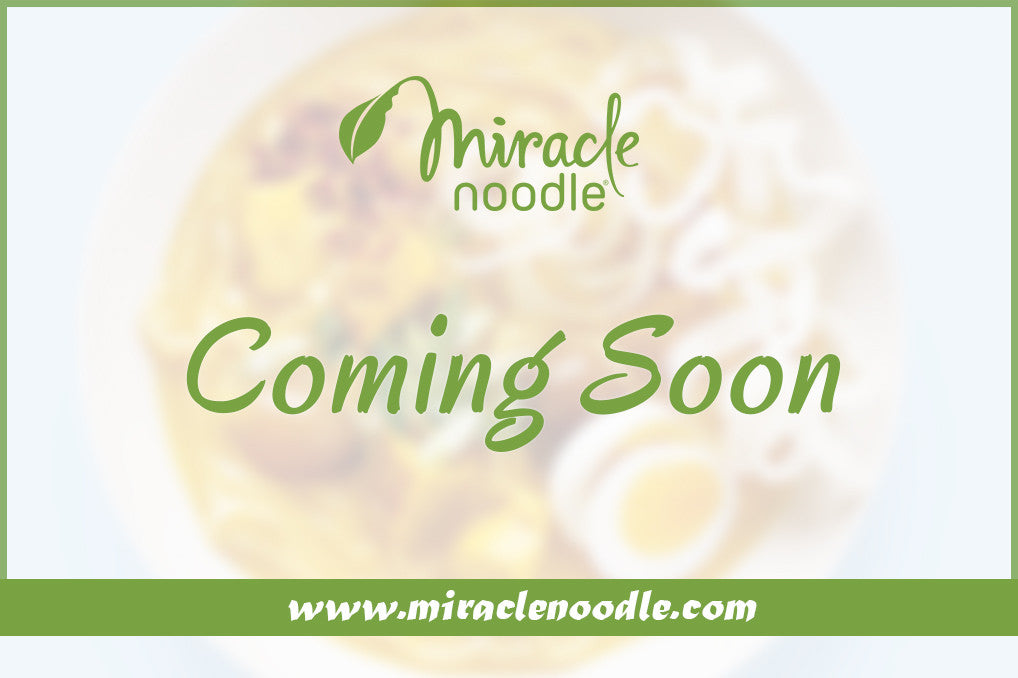 The sharp tang of watercress brightens up the taste and color of the rich mushroom sauce. 'Living' watercress, like 'living' butter lettuce, is packaged with the roots still intact. For this recipe, hold the bunch of cress like a bouquet of flowers. Cut off just the tender leafy tops and discard the rest. To crush the fennel seeds, use a mortar with a pestle, a spice mill, or a plastic bag and mallet.
Ingredients
2 7-ounce packages Miracle Noodle Fettuccine
1 tablespoon extra-virgin olive oil
2 large garlic cloves, finely chopped
1/2 teaspoon chopped fresh rosemary
½ teaspoon chopped fresh thyme
1 /2 teaspoon fennel seeds, coarsely crushed
¾ pound crimini mushrooms, stems cut off, caps cut into ¼-inch thick slices
Kosher salt
Freshly ground black pepper
20 cherry tomatoes, halved
¾ cup low-salt chicken broth
11/2 tablespoons tomato paste
1 to 2 teaspoons balsamic vinegar
Large pinch of cayenne pepper
1 bag (bunch) living watercress, stems and roots trimmed
1/3 cup finely grated parmesan cheese (preferably parmigiano reggiano; 1 ounce)
Method
Prepare the fettuccine according to package directions, except, after boiling spread fettuccine out on layers of paper towels to dry. Cut through several times to shorten strands.
Coat a large nonstick skillet with nonstick spray. Place over medium heat. Add oil, garlic, herbs, and fennel seeds. Stir 30 seconds. Add mushrooms; sprinkle with salt and pepper, then coat mushrooms lightly with spray. Toss 1 minute to blend evenly. Cover and cook 5 minutes, or until mushrooms are almost tender, stirring occasionally. Uncover and toss 3 to 4 minutes, or until all liquid cooks away and mushrooms start to brown in spots.
Mix in cherry tomatoes. Cover and cook 3 minutes, or until tomatoes start to break down. Whisk broth, tomato paste, and 1 teaspoon vinegar in a small bowl to blend. Add broth mixture, ¾ teaspoon salt, ¼ teaspoon pepper, and cayenne to skillet; toss to blend. Add fettuccine, watercress, and cheese. Toss 1 to 2 minutes, or until cress wilts but is still bright green. Season fettuccine with more vinegar and/or salt and pepper.
Nutritional Info
Food
Miracle Noodles
Olive Oil
Garlic
Mushrooms
Cherry Tomatoes
Chicken Broth
Tomato Paste
Watercress
Cheese
Total
Per Serving
Fat Gms
0
14
0
0
0
0
0
0
8.5
22.5
5.6
Calories
0
120
8
97
41
12
22
40
114
434
113.5
Carbohydrates Gms
0
0
2
9.7
9.5
0.75
5.5
4
0
41
8
Protein Gms
0
0
0.4
9.7
2
1.5
0.75
4
11
29.35
7.34