Hot And Sour Vegetable Soup with Miracle Noodle Angel Hair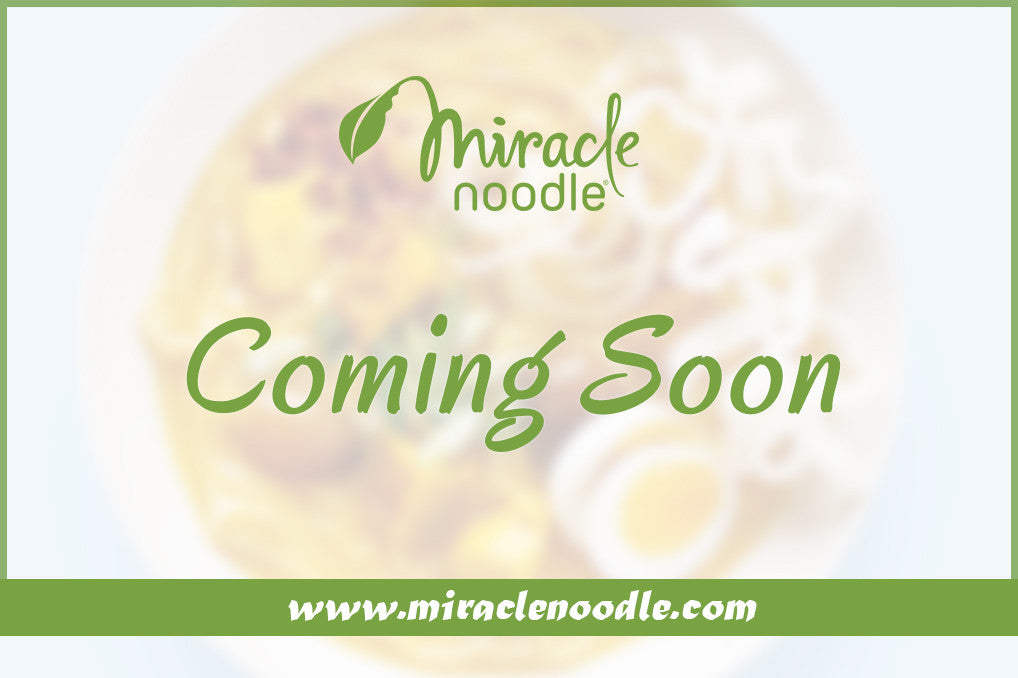 The 'hot' is Asian chili garlic sauce. But you can augment by passing Sriracha or chilli paste. The 'sour' is rice vinegar (be sure to buy unseasoned) and red wine vinegar. But you can pass more or serve with lime wedges for another flavor dimension.The result is a lean version of the restaurant classic that's loaded with enough goodies to satisfy as a main course. Maybe throw in shrimp, or strips of leftover chicken, beef, or pork. Maybe double the tofu or 'drizzle-stir' in a beaten egg during the last minute of cooking for thin egg strands. Whatever you do, have all the ingredients prepped and a kitchen timer close at hand when the cooking begins.
Ingredients
1 7-ounce bag Miracle Noodle Angel Hair
5 tablespoons unseasoned rice vinegar
2 tablespoons cornstarch
½ teaspoon sugar
32 1/2-inch cubes extra-firm tofu (41/2 ounces)
3 large bok choy leaves, stems cut away and reserved
1 tablespoon Asian sesame oil
21/2 tablespoons finely chopped peeled fresh ginger
4 ounces fresh shiitake mushrooms, stemmed, caps cut into ¼-inch strips
3 cups low-salt chicken broth (preferably Swanson's Organic)
1 red bell pepper, top and bottom ½-inch cut off, body cut into very thin strips
1 2-inch log from large carrot, peeled, cut into matchsticks
1 tablespoon soy sauce (do not use low-sodium)
21/2 teaspoons chili garlic sauce, plus more for serving (preferably Lee Kum Kee)
½ teaspoon red wine vinegar, plus more for serving
3 green onions, thinly sliced on diagonal
Method
Prepare the Miracle Noodle Angel Hair according to package directions, but blanch noodles 2 minutes. Cut through noodles several times to shorten strands.
Stir rice vinegar, cornstarch, and sugar in a small bowl to dissolve the cornstarch. Scatter tofu on paper towels; cover with more towels and set aside to drain.
Cut enough bok choy stems crosswise into ¼-inch strips to measure 1 cup (discard any remaining stems), tear leaves coarsely
Coat the bottom of a large saucepan (at least 8 inches in diameter) with nonstick spray. Add sesame oil, then ginger. Turn heat to medium high, and stir 1 minute. Add bok choy stems and shiitake mushrooms; sauté 2 minutes. Add angel hair, broth, bell pepper, carrot, soy, and 21/2 teaspoons chili garlic sauce. Bring to simmer, stirring to blend. Cover; reduce heat to medium-low; simmer 4 minutes.
Stir cornstarch mixture to re-blend; mix into soup. Simmer uncovered 1 minute, or until soup thickens slightly, stirring occasionally. Mix in red wine vinegar. Season with ½ teaspoon kosher salt and ¼ teaspoon freshly ground black pepper, or more to taste.
Divide soup among 4 deep bowls. Sprinkle with green onions. Serve soup, passing chili garlic sauce and red wine vinegar separately.