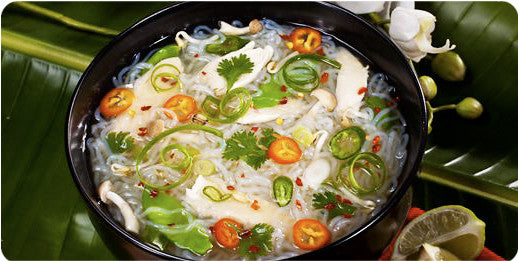 Preparation Time:
10 minutes
Ingredients
3 cups organic reduced sodium chicken stock.
1 clove garlic, minced.
1 tsp minced ginger.
1/4 tsp cardamom.
1- 7oz bag of Miracle Noodle Angel Hair Noodles.
1 boneless, skinless chicken breast sliced crosswise into 1/8 slices.
1 cup bean sprouts.
2 scallions, sliced into 1/4 inch pieces.
1 tsp chili sauce(optional).
1/2 lime, cut in half.
1/4 cup chopped cilantro.
1/3 cup of mushrooms-any variety (optional).
1 thinly slice chili pepper with seeds removed (optional).
Method
In a 3 quart saucepan, bring chicken stock to a boil over medium-high heat. Add garlic, ginger and cardamom and let simmer for 10 minutes.
In a colander rinse noodles with warm water for a couple of minutes, pat dry with a small hand towel or paper towel to remove excess water. Divide noodles into two bowls.
Add chicken to stock and let cook for 5 minutes(until completely cooked)
Pour soup into bowls over the noodles. Divide bean sprouts between 2 soup bowls then top each serving with half the scallions and chili sauce. Garnish bowls with a slice of lime and pieces of cilantro.
I could swear I was at the Vietnamese restaurant, but without the calories!
Nutritional Info: 2 Servings
Calories 180
Total Fat 3.6g
Saturated Fat 1.0g
Cholesterol 73mg
Total Carbohydrates 6.2g
Dietary Fiber 1.7g
Protein 31.1g