Angel Hair Miracle Noodle Thai Green Curry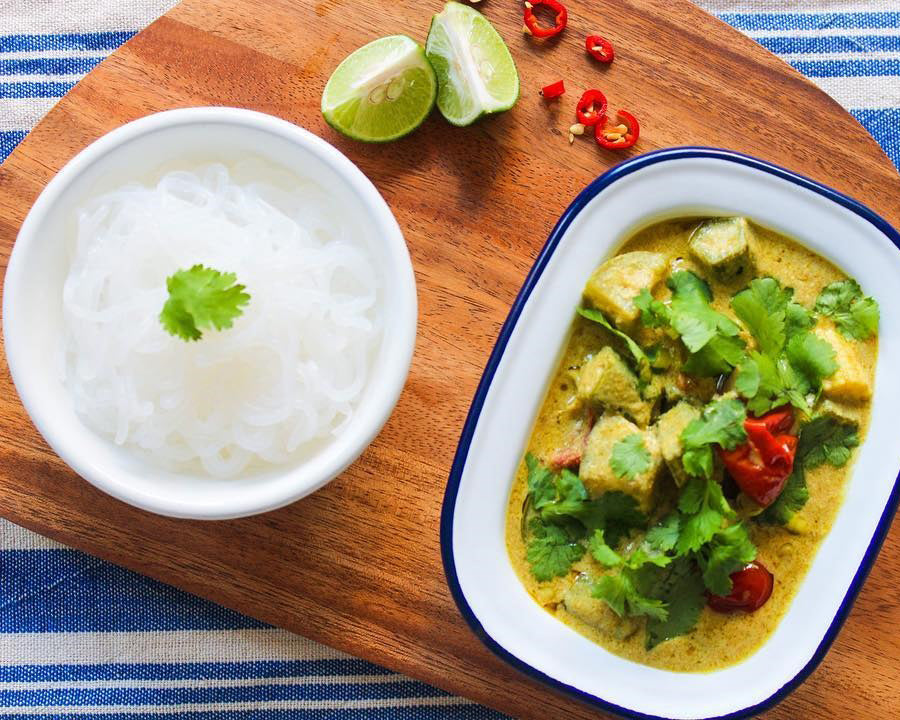 Our Miracle Noodle Ambassador, is on a health mission and loves sharing her delicious creations! Here's a new recipe that has some heat and flavor!
Follow Leisia Tang on Instagram at @leisiamakesmiracles on Instagram.
Make her recipe using our Angel Hair!
"ANGEL HAIR MIRACLE NOODLE THAI GREEN CURRY fried and combined with coconut milk and vegetables - this dish will give you a low carb, spicy mouthwatering Thai green curry!"
Serves 4
INGREDIENTS:
13.5 OZ (400mL) lite coconut milk
100mL water OR coconut cream (if you like your curry more thick and creamy)
70g green curry paste 
250g bite-size pieces of chicken breasts or thighs (optional)
3-4 small white eggplants chopped into half or quarter moons 
3-4 okra
3-4 baby corn, halved
1 stalk lemongrass, sliced thinly
1-2 small red chilis 
2 kaffir lime leaves (fresh is best but dried is just as good!)
1 handful of baby tomatoes, halved
1-2 sweet basil leaves
1" slice of fresh ginger
2 garlic cloves, smashed
2 fresh cilantro leaves
1 lime, juiced
2 tsp thai fish sauce 
1 tbsp cumin
1 tbsp oil (I use coconut oil)
1 7oz (198 g) packet of Miracle Noodle Angel Hair, one packet per serving
DIRECTIONS:
1.) Heat oil in a large frying pan on med-high heat
2.) Add lemongrass, garlic cloves, ginger, kaffir lime leaves, and green curry paste
3.) Add 1/2 of the coconut milk, reduce heat to low
4.) Add the remaining coconut milk
5.) Add 100 ml of water/coconut cream 
6.) Add (chicken, optional), eggplants, baby corn, okra, tomatoes, sweet basil, fish sauce, lime juice, cumin, and simmer until your chicken and vegetables are cooked through thoroughly.
7.) Add red chilis and cilantro as garnish 
8.) Prepare Miracle Noodle as per cooking instructions and serve warm together!