Aromatic Tomato-Based Pasta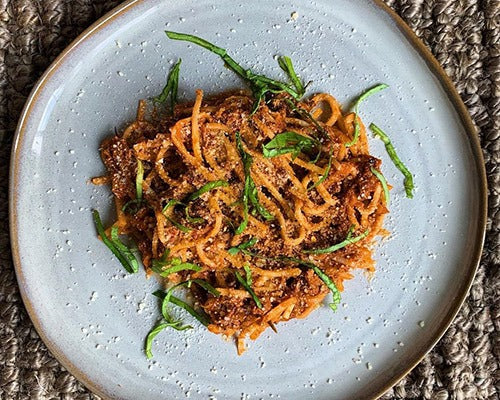 Aroma will surely flood the house with this Tomato-Based Hearts of Palm Pasta. This recipe has a lot of flavor and depth and gets you hyped to eat the meal you've been smelling for hours. 
INGREDIENTS:
3 lbs beef short ribs
2 cans Miracle Noodle Hearts of Palm 
1 white onion - diced
1 head garlic + 3 cloves
2 lbs Roma tomatoes - quartered
2 cups dry red wine
1 tbsp fennel seeds
1 tbsp dry oregano
1 large sprig rosemary
1 tbsp tomato paste
1 cup beef stock
3 bay leaves 
DIRECTIONS:
1. In a Dutch oven, heat 2 tbsp of olive oil on high heat. Add ribs, sear all sides, remove and set aside.
2. Deglaze with 1 cup of red wine and beef stock. Add tomato paste,
3 cloves of garlic, half a chopped onion, bay leaves, salt, and pepper. Stir tomato paste thoroughly.
3. Add ribs back in, add rosemary, bring to a boil, cover with a tight lid, and place in the over for 5 hours at 235 f.
4. Spread tomatoes on a roasting tray, top with a generous amount of olive oil. Top with fennel seeds, oregano, salt, and pepper.
5. Cut a head of garlic in half, top halves with olive oil, place on a tray.
6. Place tray in oven with ribs. Roast for 5 hours.
7. After 5 hours, remove ribs and tomatoes, let rest.
8. In a food processor, blend tomatoes and roasted garlic (remove "paper" layer of garlic, use 1/2) until smooth.
9. Skim 3 tbsp of fat from ribs and heat in a large skillet. Add 1/2 of diced onions. Cook for 3 minutes.
10. Add 1 cup of wine, cook for 2 minutes. Add tomato sauce, mix and cover. Lower temp to a simmer.
11. Pull meat from the bones, mix into sauce.
12. Add hearts of palm, top with Parmesan and basil. Enjoy!