Asian Stir-Fried Shirataki Noodles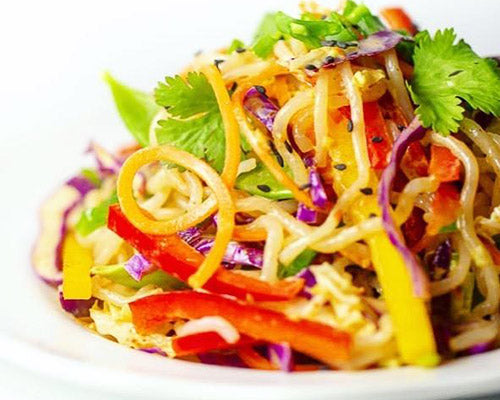 Looking for a vegan meal that's light and filling? Try this Asian Stir-Fried Shirataki Noodles. A serving of our Shirataki Noodles contains 5 calories and less than 3 grams of carbs. 
 "Eat the rainbow and do it with 0-calories shirataki noodles in an Asian stir fry."

Recipe from @inthekitchenwithbae.


INGREDIENTS:

Miracle Noodle Angel Hair 
Spray oil of choice
Purple cabbage, shredded
Red and yellow bell pepper strips
Cilantro
Black sesame seeds

For a sauce, we suggest combining:

2 tsp tamarind paste
1/3 cup of vegetable broth
2 1/2 Tbs Coconut aminos if you're soy-free or liquid aminos
2 Tbs of sugar-free sweetener
1 to 2 fresh chilies (or 1/4 to 3/4 tsp chili flakes)

DIRECTIONS:


1. Prepare Miracle Noodle according to package. Set aside.
2. Saute veggies in oil.
3. While veggies are cooking, mix together sauce ingredients.
4. Add sauce to pan and noodles. Combine everything.
5. Remove from heat and top with sesame seeds and cilantro.