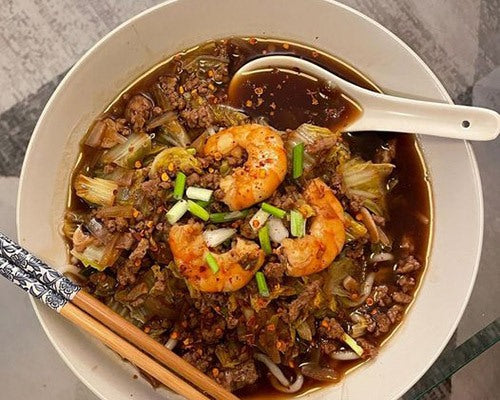 This recipe features prawns, beef, spice, and our keto-friendly Angel Hair noodles. The noodles are a source of a filling fiber that adds a gratifying balance to this meal.
INGREDIENTS:
1 pound 80/20 ground beef, browned and crumbled
1/2 small onion, diced
2 cloves minced garlic
1/4 to 1/2 teaspoon ground ginger
2 Tablespoons vegetable oil
1 tsp. sesame oil
2 cups beef broth
2 Tablespoons soy sauce
2 packages of Miracle Noodle Angel Hair
1/2 cup green onions, chopped
Chinese cabbage
Prawns
Chilli flakes
Sriracha for some spice
DIRECTIONS:
1. Prepare the ground beef and set aside.
2. In the same pan, saute the onion, garlic, ginger, vegetable, and sesame oil. Saute over medium for several minutes.
3. Add prawn, Chinese cabbage, beef broth, and soy sauce and simmer for a few minutes.
4. Switch heat to low to keep warm while you prepare noodles.
5. Empty and drain the packages of konjac noodles.
6. Rinse with cold water for 20 seconds and drain in a colander.
7. Bring a pot of water to a boil. Once boiling, add the noodles and cook for 1 minute. Drain and pat dry with a paper towel.
8. Add the noodles to the warm broth mixture.
9. Add in the ground beef, raising the temperature until everything is warmed through.
10. Garnish with chopped green onions and chili flakes.