Beet Purée Pasta with Peas and Goat Cheese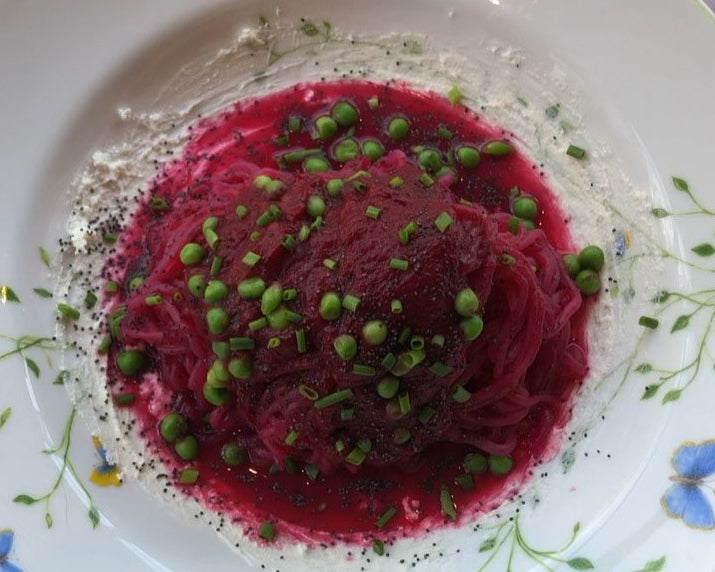 Check out what our new ambassadors Jenna and Seana are up to! Try their delicious beet pasta dish! Beets are a great source of fiber, folate, and vitamin C - something we could all use. Pair that with our noodles, and you're getting some powerful nutrients to help battle inflammation.

INGREDIENTS:

1 pack of Miracle Noodle Angel Hair
1 bunch of fresh beets
Olive Oil
Peas, boiled
Poppy seeds
Goat cheese
Chives
Freshly ground pepper
DIRECTIONS:

1. Rinse Miracle Noodle for 15 seconds, drain. Place noodles in boiling water for 2 min, drain. Dry roast in a naked pan over medium heat till all water is absorbed. Set aside.

2. Preheat oven to 375. While oven warms, remove beets from stems. Discard stems, rinse beats thoroughly, then quarter. Rub with olive oil then wrap in aluminum foil and bake for an hour or until you can easily pierce the beats. Remove from oven carefully as steam will release from aluminum.

3. Place beets in a food processor and blend till smooth. Season with pepper and any other seasonings you may like.

4. Cut on a bias your chives.

5. Spread goat cheese on a plate.

6. In a bowl, combine noodles, and peas. Place on top of the plate which has the goat cheese spread. Top with poppy seeds and chives.