Chicken Adobo over Shirataki Black Angel Hair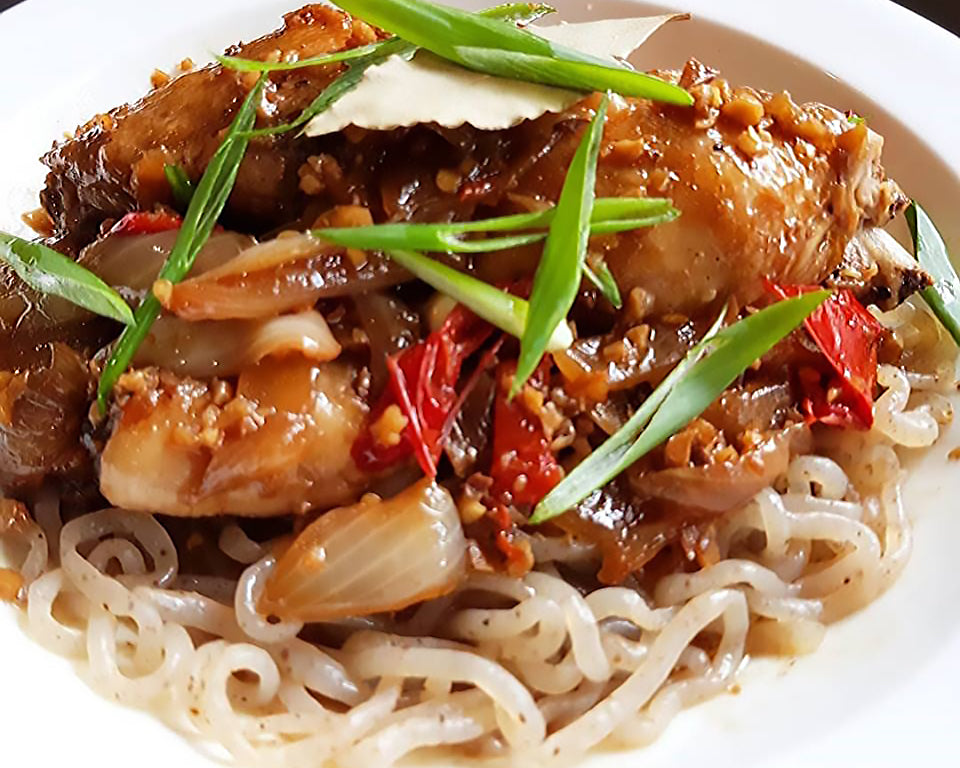 It's time for a spicy and flavorful meal! Check out what Elsie came up with using our Shirataki Black. The black comes from the hint of seaweed we infused it with. Add depth and dimension to your meal with our keto-friendly black angel hair!
"Oh my.. this is so good! Chicken Adobo with zero carb shirataki black noodles from Miracle Noodle. That thick, sweet, savory and tangy sauce tastes so good with the noodles. Adobo is a popular dish in the Philippines which involves meat,
 

seafood or veggies marinated in vinegar, soy sauce, sugar, garlic, ginger, and black pepper.
I made a low-carb version using apple cider vinegar for the tang, liquid aminos for savory and low-carb natural sweetener for the sweet. Added lots of yellow onions and bay leaves for flavor, and fresh chilies for color. This recipe serves 4 people so you can adjust accordingly."
Recipe by Elsie Yan of Low Carb Recipe Ideas.
INGREDIENTS:
4 packets of Miracle Noodle Shirataki Black Pasta
6 whole chicken legs 
1 cup apple cider vinegar 
3/4 to 1 cup liquid aminos or tamari
Low-carb natural sweetener to taste 
1/2 cup minced garlic
1/2 cup grated ginger
2 yellow onions (sliced)
1 tbsp black pepper
1 tsp salt
4 bay leaves
4 fresh chilies (sliced)
1 cup water
DIRECTIONS:
1. Prepare Miracle Noodle as indicated on package.
2. Marinade chicken with liquid aminos, acv, sweetener, black pepper, ginger, and garlic for at least 30 mins.
3. Brown chicken in pan then remove and set aside.
4. In the same pan, add oil and sauté onions with 1 tsp salt until soft then add chilies and stir fry for a while.
5. Add the browned chicken, marinade sauce, bay leaves, water and simmer covered until the chicken is tender.
6. Remove chicken and place on top of noodles. Simmer the sauce until thickened then pour onto the chicken and noodles.
7. Garnish with spring onions.