Easy Chicken & Vegg Tikka Masala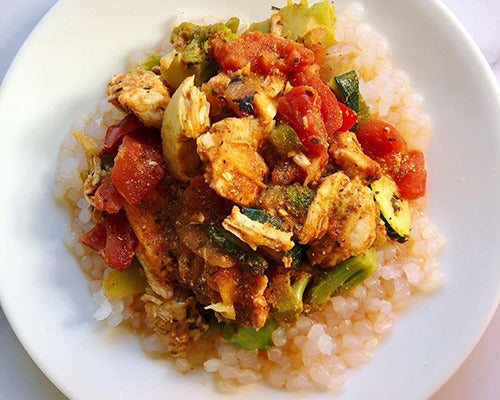 Here's an easy one-pot meal that satisfies Indian food cravings. It only uses two spices and three ingredients for the sauce.
INGREDIENTS:
1/2 C organic canned chopped tomatoes
2-3 Tbsp organic bone broth (as needed)
1 large spoonful of Greek yogurt
1/8 tsp garam masala + 1/8 tsp curry powder
4 oz organic cooked chicken breast
Vegg: bell peppers, onions, zucchini, broccoli
1/2 bag prepared Miracle Rice 
DIRECTIONS:
1. Sauté veggies in a pan until golden brown.
2. Add canned tomato and spices. Continue cooking and add bone broth if moisture is needed.
3. Mix in the yogurt, followed by the chicken. Stir to combine and serve over prepared Miracle Rice.