Egg Noodle Veggie Stir Fry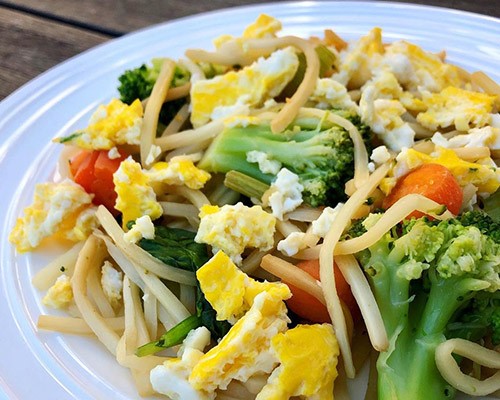 Try noodles in a breakfast scramble. It's a great way to add some delicious fun to your eggs.
Recipe by Jennifer Newman.
INGREDIENTS:
1/3 can Hearts of Palm Pasta from Miracle Noodle
1 organic pasture-raised egg
3 baby carrots
2 Tbs onion, minced
1/4 C broccoli
Fresh ginger
2 tbsp Nob Soy Soy Sauce + teriyaki marinade
1/2 tsp black pepper, garlic powder 
DIRECTIONS:

 
1. Drain pasta and rinse with water in a strainer. Set aside.
2. Sauté veggies in a pan.
3. Separately, scramble the egg and add all ingredients into the pan.