Ginger Turmeric Chicken Noodle Soup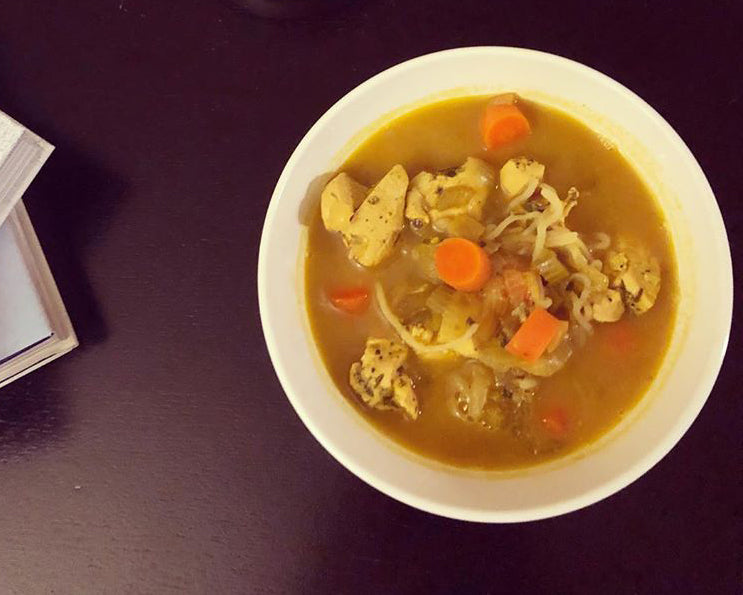 It's time for a feel-good meal! 
Recipe from our Ambassador Shiela Emami @champagnemami_aka on Instagram.
"Feeling under the weather? Here is a Paleo friendly ginger turmeric chicken noodle soup recipe to make you feel better."
INGREDIENTS:
1 pack of Angel Hair Miracle Noodles, drained and rinsed
1 tbsp veggie oil
1 medium onion, diced
2 stalks of celery, diced
1 large carrot, diced
2 inch piece of ginger, peeled and quartered
6 cloves of garlic, smashed
1 tbsp chili garlic paste
1 large tbsp of turmeric
1.5 lbs of chicken, cut into 1-inch pieces (marinated lemon/herb chicken works as well)
1-quart chicken bone broth
1.5 cups of water
DIRECTIONS:
1. Prepare Miracle Noodle according to package and set aside.
2. In a large soup pot, preheat the oil for 2 minutes. Add onions and sauté until translucent (about 5 minutes).
3. Next, add the garlic, ginger, turmeric, chili paste, carrots, and celery. Sauté for 5 minutes. ⠀⠀⠀⠀⠀⠀⠀⠀⠀⠀
⠀⠀⠀⠀⠀⠀⠀⠀⠀⠀
4. Add chicken stock and water and bring to a boil. ⠀⠀⠀⠀⠀⠀⠀⠀⠀⠀
⠀⠀⠀⠀⠀⠀⠀⠀⠀⠀
5. Finally, add the chicken along with Miracle Noodles and cover. Boil for 25 minutes. Season with salt and pepper to taste. Enjoy!