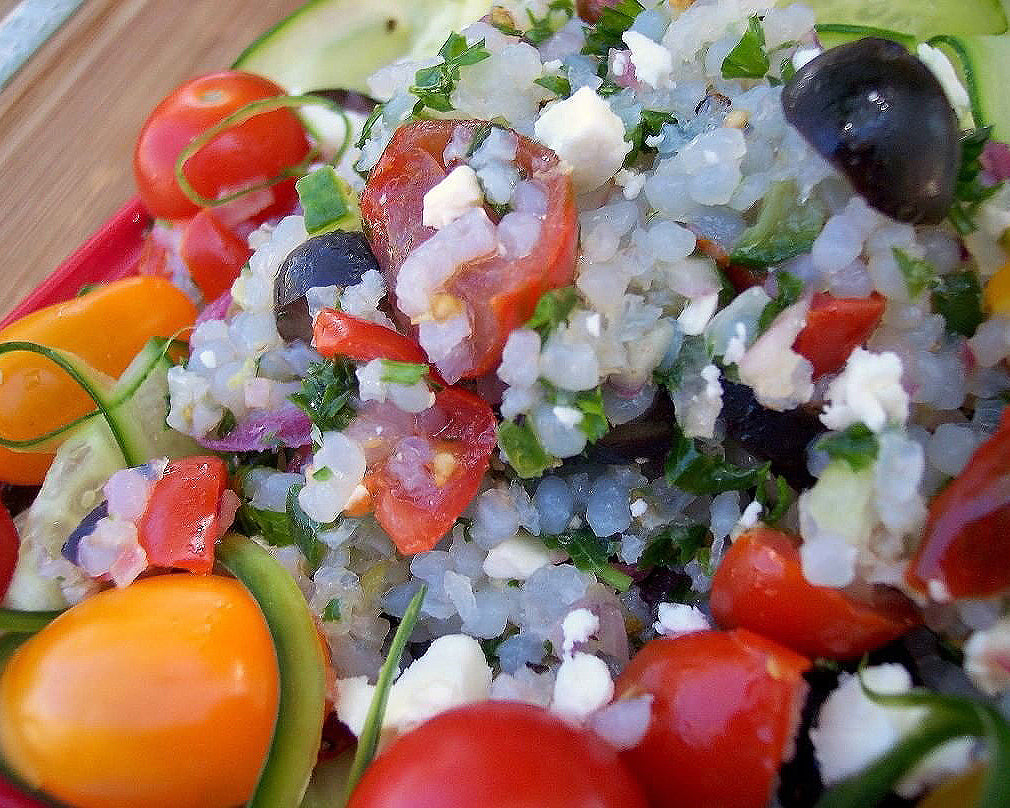 Audrey loves creating beautiful low-carb recipes using our noodles and rice! Today she came up with a great summery side with fresh tomatoes, cucumbers, and olives! 
"I use Miracle Rice as a substitute for couscous in various recipes. This salad makes a great side dish for grilled meats or fish, or for a picnic, potluck or BBQ. Add shredded chicken to make a salad entree.
I used English cucumber
s in the salad because the skin is thin, and it's unnecessary to peel. If using regular cucumbers, peel the skin as they are usually coated in wax." - Audrey at

 

Creative Low Carb Fusion.

Greek style Miracle Rice Salad

INGREDIENTS:

1 pkg of Miracle Rice
1 small red onion, finely chopped
1 cup English cucumber, seeded and diced
8-10 cherry tomatoes, cut in half
1/2 cup black olives, sliced
1/4 cup olive oil
1/4 cup fresh parsley, chopped
1/4 cup feta cheese, crumbled
2 tablespoons of fresh lemon juice
1 teaspoon lemon zest
1 teaspoon of dried oregano
Salt and pepper to taste

DIRECTIONS:

1. Drain and rinse the Miracle Rice. Add to water and bring to a boil. Let boil for a minute before draining. Set aside and let cool.

2. In a medium bowl, combine all the ingredients, except the feta cheese and salt, and stir to mix well.

3. Crumble feta cheese on top. Taste and add additional salt if needed. Serve at room temperature.