Grilled Five Spice Chicken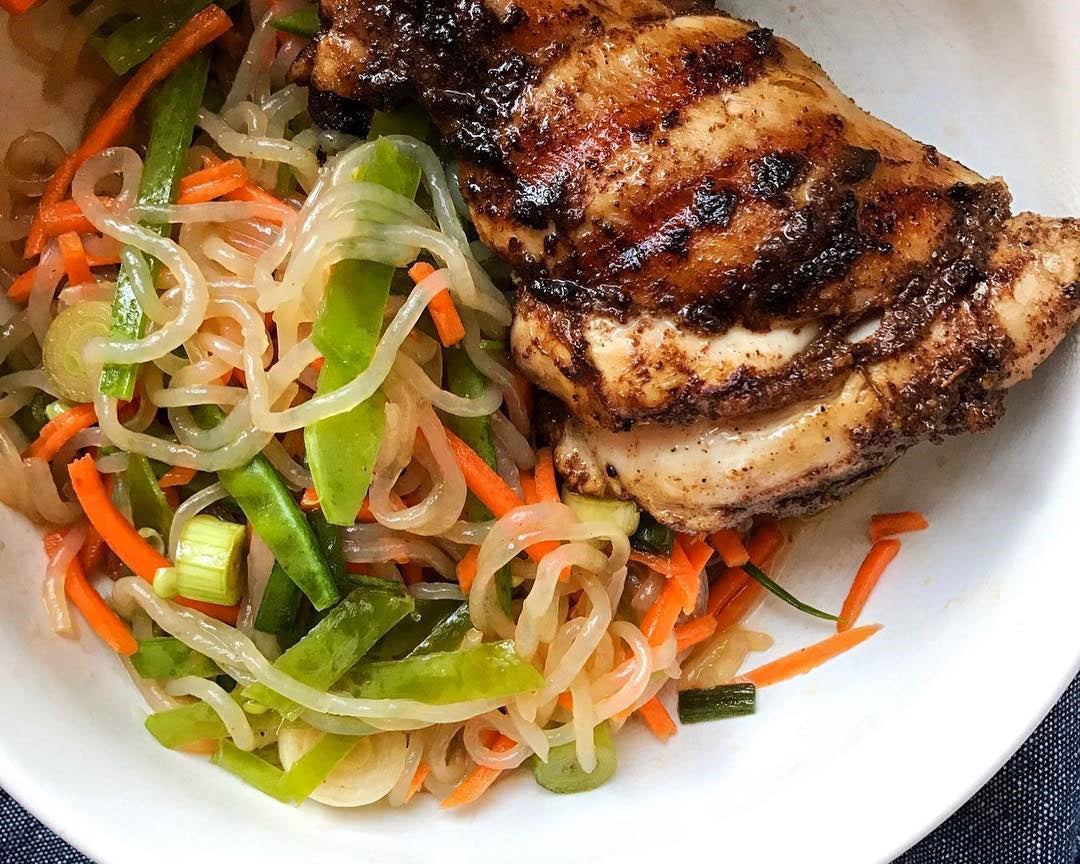 Miracle Noodle Ambassador is the Queen of delicious low calorie meal creation! Check out her chicken dinner using our noodles and Simply Beyond Herbal Sprays!
INGREDIENTS:
CHICKEN

Chicken Thighs
Stevia
2 tablespoons Chinese five spice powder
1 tablespoon of unsweetened rice vinegar
1 teaspoon of coconut oil
1 tablespoon of gluten free soy sauce
*Optional: sriricha / cayenne pepper / etc for spiciness

DIRECTIONS:
CHICKEN
1. Brine your chicken! Let it sit in salt water, covered, for up to 12 hours - this keeps it juicy when you cook it on high heat.
2. Mix your marinade (ingredients above). Dry off your chicken so the saltwater is gone, then cover it with marinade. (You don't actually need to let the chicken sit in the marinade, it doesn't really penetrate that far into the meat - only salt can really penetrate deeply. The marinade should sit on the outside and caramelize when it hits the heat.)
3. Put your chicken right over high heat - on a grill, on a grill pan, or even under the broiler in your oven. If it's cut thinly, it shouldn't take long to cook, but it'll vary based on size.

INGREDIENTS:
NOODLES

Savory, Sour, Sweet, and Spicy Dressing:

1 teaspoon sesame oil
2 tablespoons soy sauce
1 tablespoon rice vinegar
1 teaspoon lime juice
A couple drops/pinch of stevia
Sriracha to taste
Simply Beyond Herbal Spray in Lemongrass

2.) Prep Miracle Noodle Angel Hair - I like to drain them, put them in the microwave for a minute, rinse with water, then microwave for a second minute. That's it.

3.) While the noodles are in the microwave, chop up any veggies you have on hand (carrots, celery, cucumbers, peppers, scallions, snow peas, cabbage, whatever you like). When the noodles are out, mix *everything* together, add a spritz or two of Lemongrass spray and you're good to go!